Your college apartment is going to play a central role in your life. This apartment will be the space where you can let down, get some quiet for studying, and enjoy spending time with friends. Are you looking for new ways to elevate the look and feel of your college apartment?
We're going to cover some easy-to-implement strategies that will help you make your college apartment feel like home. Let's jump right in!
Prioritize Furniture with Extra Storage
An apartment full of clutter can be a real stressor. Don't let this get you down! A solid array of storage items can help you consolidate what you own and breathe a breath of fresh air at the sight of your organized apartment.
More space in your apartment means more room for furniture. Solid furniture options give you and visitors more opportunities to relax and enjoy your space. An oversized chair is one of the many furniture pieces that will help an apartment transition from good to great.
Get Creative with Your Lighting
Lighting has the ability to give your apartment a warm and cozy vibe. Diversify your lighting, and your apartment will take on a dynamic personality that's attractive and accommodating. One great thing about lamps is that you can hide them within other furnishings in your apartment so they don't take up too much space.
Bookcases are a great place to put lamps when you're running low on room. Hanging lights isn't solely reserved for holidays. Hanging white or multicolored lights in your living room or bedroom can give these spaces an intimate and welcoming feel.
Add Houseplants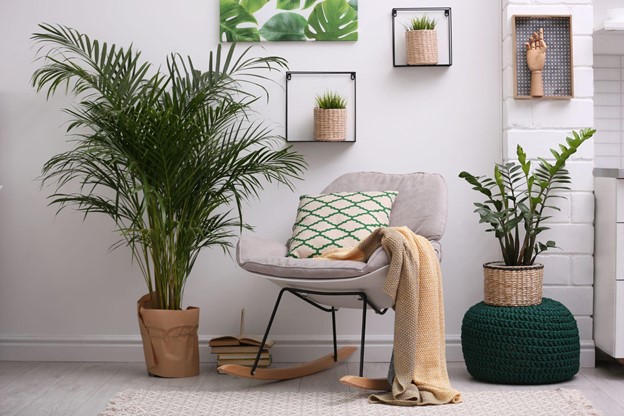 Houseplants bring new life into your apartment. You can easily find space for small plants on shelves or tabletops, while larger plants can be hung inside your apartment or outside on a terrace.
Here's a quick list of the most common houseplants that students enjoy buying for their apartments:
Pothos
Snake plants
Cacti
Succulents
Bamboo
Keeping Things Simple Goes a Long Way
Easy does it. Adding too many items into your apartment will take away from the enjoyable environment that you're looking to create for yourself and others. Apartment owners occasionally overlook the fact that minimalist decorating is a great option when you're decorating on a budget. Two or three standout items can end up defining the vast majority of your space's personality.
Integrate Vintage-Style Wall Art
Vintage apartment decor is a major trend nowadays. Hanging (and framing!) vintage-style prints will give your apartment a splash of character. Consider hanging vintage movie posters or retro prints of your favorite music artists to reflect your tastes while decorating your apartment.
Look For Your Washington DC College Apartment with Keener Management
Few things are better than visiting U Street bars on a Friday night or catching a show at DC venues like the Black Cat. Keener Management offers access to affordable luxury apartments in DC's most sought-after areas so you can take in everything that the nation's capital has to offer during your downtime. We have properties in these areas:
Dupont Circle
14th Street
Logan Circle
Kalorama
Woodley Park
Columbia Heights
Rosslyn
You need a great apartment before you begin your decorating plans. Keener Management is here to help Washington DC college students attain housing in the city's most desirable neighborhoods. DC college students can give Keener Management a call at 202-249-0894 to learn more about all our properties.