Are you taken by D.C. and can't wait to move to the exuberant, happening, and lively nation's capital? Need an apartment here for school or a new job? Maybe you're already in D.C. and looking for a new place, but don't know where to start?
In any case, apartment hunting in D.C. is not for the faint of heart. It can prove to be very stressful if you don't go about it the right way.
Congratulate yourself for taking the first step and researching how to find an apartment in D.C. That's one step closer to signing the lease to your new D.C. apartment.
How to Find an Apartment in Washington D.C.
Use this guide to jumpstart your apartment search and refer back to it often, especially if you get discouraged. Sometimes finding an apartment in D.C. is a process. Taking the advice below will aid you and make things go much smoother. Good luck!
Where to Look: Ways to Find an Apartment in D.C.
Online: For the technology-savvy, your first inclination may be to visit apartment-hunting websites to get the ball rolling. It's convenient, easy, and a good way to create a list of potential apartments to visit and scope out. If this is the best method for you, you have plenty to choose from. Here's a short list of some of the best:
Rental agencies: If you don't have time to visit a bunch of apartments or simply don't want to stress over apartment hunting, you should consider hiring someone to do the dirty work for you. There are several rental agencies in D.C. ready to take the load off your shoulders and ease the apartment-finding burden:

Apartment Detectives: Its service is unique to Washington D.C., Maryland, and Northern VA and has been in business since the 90s. They make the calls and schedule appointments for you in a matter of a day or two.
Padfinders: Padfinders bills itself as an "apartment matchmaker" and uses "locators" to find the right D.C. apartment for you. It's a free service.
City Chic Real Estate: Their rental match service claims to find you a place in 7 hours or less. They charge a $350 fee for this impressive feat, which is a small price to pay to skip apartment hunting in D.C.

Keener Management Concierge By Text: This is another trusted, convenient way to help find your next apartment! Text the Keener Management Concierge at (202) 660-9989. You will be able to talk to leasing professionals who know all the communities available across the city.
Calling/Walking by: Sometimes the good, old-fashioned walk-by doesn't hurt, especially if you visit the District often. Some apartments have their numbers plastered on a huge poster in the front of the building and you learn about leasing by calling. It also doesn't hurt to just walk into the leasing office of a building you like or to request information at its front desk to learn more about the property. This way may be a bit more time-consuming and less convenient, but it's perfect if you're already in the area.
When to Look: The Best Time to Rent Apartments in D.C.
Best time in advance: We recommend beginning your apartment search about 2 months before you plan to move in, with 1 month being the absolute minimum.
Best time of year: Summer months are known to be super competitive in the D.C. rental market. If at all possible, avoid the months of May-September. The closer to the dead of winter you look, the easier it'll be to secure that special place, and you might even get a free month's rent thrown in.
Before You Look: Get These Squared Away Before Beginning Your D.C. Apartment Hunt
As when looking for an apartment in any city, you need to take several things into account:
Set your price range. Keep in mind that the average rent for an apartment in D.C. was $1,883 as of January 2017. It's best to aim for a price that's no more than a third of your gross income.
List your must-haves and flexibles. Looking for luxury apartments or affordable, budget-friendly ones? Ones with laundry facilities? A pool? It's important to know which amenities you're willing to give up from the ones you can't live without. Create a list of 5 must-haves and 5 would-like-to-haves, and use that to guide your search. It's also helpful to rank these in order of importance: location, rent cost, amenities, neighborhood, and transportation.
Location, location, location: choose wisely.

Neighborhood: If you're new to D.C. or unfamiliar with any of D.C.'s neighborhoods, Urban Igloo has a great resource that provides comprehensive overviews of each D.C. neighborhood, complete with local restaurants and hot-spots. However, nothing beats visiting the neighborhoods in person and getting a feel for yourself. Have fun and make a tour out of it if you can.
Metro accessibility: Metro accessibility is über-important if you plan to get around without a car or bike. Some areas in D.C. are not so well-connected, and likely, the closer an apartment is to a metro stop, the more expensive.
6 Tips for Apartment Hunting in D.C.
Move fast—apartments go quickly. If you're sure about a place you're seeing, it's best to come with the leasing application filled out along with any necessary supplemental materials or else that apartment may very well be gone by the time you get home. The proverbial early bird gets the great D.C. apartment every time. Make sure it's you.
Figure out parking costs. Parking in a garage can add an extra $300/month to your expenses. Some apartments don't have adequate parking at all. You want to know this before you sign your lease and move in.
Don't be afraid to negotiate. It doesn't hurt to ask. Know what your money can get you, know your value as a prospective tenant and communicate accordingly when negotiating. Read your lease thoroughly before you agree to its terms.
Consider getting a roommate. Washington D.C. is one of the most expensive U.S. cities to live in. It'd be more than beneficial to ease the high cost of living and rent with a roommate. If sharing space is something you're open to, try sites like Roomster, com, and Craigslist to find a roommate(s).
Be open to looking just outside of D.C. If you're not willing to sacrifice space and money to say you live in D.C., consider apartment hunting in the surrounding areas of D.C. in Maryland and Virginia. You'd only be joining thousands who commute to D.C. for work and venture out for D.C. nightlife.
Research your landlord or management company. Check reviews and make sure they have good ratings. Ask to be put in contact with current tenants to get their opinion. Does your future landlord seem a little sketchy? Go with your instinct and try to find someone you can trust.
Why D.C.?
It's the nightlife. It's the proximity to political intrigue. It's the diverse, educated people. If you're not already charmed by D.C.'s vibrancy, you soon will be when you move here. Come back to your sweet reasons for moving to the nation's capital if you get discouraged, but know that your dream apartment is out there. You're one more step closer.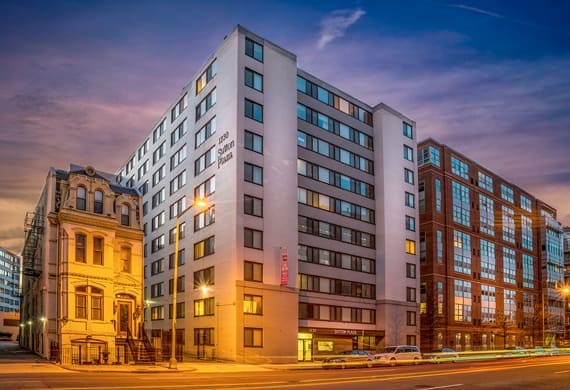 Looking for luxury apartments in D.C.? Call (202) 299-9646 for more information.