Cooking is a skill everyone should learn, whether you're a lover of gourmet food or a culinary minimalist who delights in a simple ham and cheese sandwich. Cooking is a fun social activity you can enjoy with friends and family in your luxury apartment in Washington, D.C. or wherever you may reside.
Mastering new recipes provides even amateur cooks with a great feeling of personal satisfaction. Also, preparing your own meals provides an excellent way to take control of your diet, allowing you to choose healthy ingredients and avoid the excess calories often found in restaurant food.
A recent study by a respected research institution found that men and women who frequently cook meals at home enjoy healthier diets than those who frequently eat out, consuming fewer calories, carbs, sugar, and fat.
The Johns Hopkins Bloomberg School of Public Health Research analyzed data collected from more than 9,000 participants in the 2007-2010 National Health and Nutrition Examination Survey. The study found that adults who cooked meals at home once or less per week consumed an average of 2,301 calories per day, while people who cooked at home six to seven times per week consumed an average of 2,164 calories per day. The study also found that people who frequently cook at home were likely to eat less on occasions where they ate at a restaurant.
Three Easy Meals You Can Cook In Your Apartment
Chicken breast with shaved Brussels sprouts – This yummy dish packs plenty of protein and potassium but also comes in at just over 300 calories, making it a very filling lean meal. You'll need the following ingredients: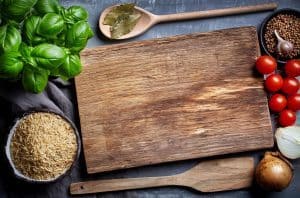 1. 2 8oz boneless, skinless halves of a chicken breast
2. 3/4 tsp salt
3. 2 broccoli stems
4. 2 tbsp olive oil
5. 2 tbsp lemon juice
6. 1/4 tsp black pepper
7. 2 celery stalks
8. 1/4 c toasted hazelnuts
9. 1/4 c fresh, flat-leaf parsley that will need to be coarsely chopped.
10. 1 oz Parmesan cheese that will need to be coarsely grated
11. 1 ½ c brussel sprouts
To prepare this meal, put the chicken and salt in a small saucepan. Add water to cover the chicken, then place the saucepan on the stove and bring the water to a boil. When the water is boiling, remove the pan from the heat and let it cool for about 15 minutes, and then drain the pan and run the chicken under cold water. When the chicken is cool, shred it into small pieces.
While preparing the chicken, peel the outer layer of the broccoli stems and throw this layer away. Then peel the stems into long segments. In a large bowl, whisk the lemon juice, oil, and a quarter of a teaspoon each of salt and pepper, and then add the broccoli strips, Brussels sprouts, parsley, and other ingredients. Next, add the chicken and toss. This meal should provide enough food for yourself and a companion or two.
Spinach & cheese omelet – This simple omelet allows you to combine the healthy green vegetables with the protein power harnessed in eggs. To cook this tasty omelet, you'll need:
1. 2 large eggs
2. 1 tbsp butter
3. 1 c coarsely chopped spinach
4. 1/3 c chopped tomatoes
5. 1/8 tsp salt
6. 1/3 c shredded Swiss cheese
7. 1/8 tsp pepper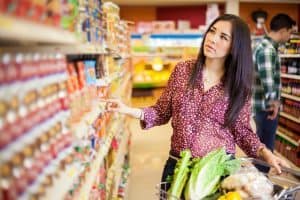 Crack the eggs and put them in a blender along with two tablespoons of water. Blend these ingredients until they are thoroughly combined. Next, melt butter in an eight-inch skillet over medium heat.
Add your spinach and tomatoes to the skillet and cook for about a minute. Next, add salt and your blended eggs to the skillet. Cook the ingredients, gently raising the edge of the omelet and tilting the pan to let the egg flow beneath the already cooked spinach and tomatoes.
After about a minute, cover your skillet and allow it to cook for another minute. Finally, sprinkle some cheese and pepper over the omelet and then fold it in half. Add more salt and pepper as needed.
Layered Mexican chicken salad – This takes a little bit of skill, but it's well worth learning. This dish has about 512 calories and takes about 25 minutes to prepare. It's stocked with protein but is low in saturated fat.
To make this meal, you'll need:
1. 2 c chopped and seeded plum tomatoes
2. 1/2 c chopped and seeded plum tomatoes
3. 1/2 c fresh, chopped cilantro
4. 1/2 tsp salt
5. 1/8 tsp cayenne pepper
6. 1/4 c fresh lime juice
7. 3 tbsp extra virgin olive oil
8. 1 15-oz can of unsalted black beans that have been drained and rinsed
9. 1/2 tsp ground cumin
10. 2 c chopped romaine lettuce
11. 1 ½ c shredded rotisserie chicken breast
12. 1 c fresh corn kernels
13. 3/4 c prepared guacamole
14. 2 oz lightly crushed tortilla chips
15. 1/4 c sour cream
16. 1/4 c roasted salted pepitas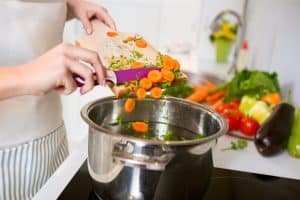 Begin by making pico de gallo. Mix tomatoes, cilantro, salt, cayenne, three tablespoons of lime juice, two tablespoons of oil, and a little onion into a bowl. Next, in another bowl, mix beans, cumin, and the leftover lime juice and oil together.
After that step, separate about half your pico de gallo from the bowl and place it in four large glasses. Top each glass with romaine, chicken, corn, guacamole, tortilla chips, black bean mixture, and, finally, the other half of the pico de gallo. Add a tablespoon of sour cream and pepitas, as well.
These are three easy meals you can enjoy alone or with friends and family. Once you master these recipes, there is a world of other culinary adventures you can embark upon.
Cooking Catching Fire

A growing number of people are jumping on the home cooking bandwagon. A Washington Post poll found that 70 percent of women cook, up from 67 percent in 1995. The real growth in cooking has been among men, however. Today, 43 percent of men cook, up from 38 percent in 1995 and just 29 percent in 1975.
In addition to the health benefits and feeling of accomplishment, there's also a "cool factor" often associated with cooking a tasty meal on your own. As the Food Network and online cooking channels have made cooking more accessible and appealing, foodie culture has exploded. Today's status symbol isn't a flashy car or the latest gizmo—it's a well-prepared meal.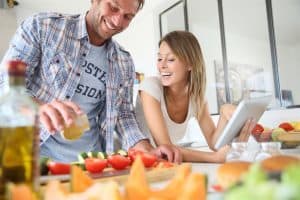 Consider this: A 2014 study by Sunbeam found that 57.5 percent of women were turned on by seeing their significant other make a cake. That's more than the 55 percent of women aroused by seeing a man use a power drill. Men are also greatly appreciative of partners who can cook. Culinary skills remain a skill most men desire in a potential spouse.
Keener Management provides the perfect place to practice your culinary skills and learn to prepare a home-cooked meal. Keener Management's luxury apartments in Washington, D.C. offer spacious kitchens perfect for aspiring foodies. Learn the joy of cooking in your own upscale home kitchen at The Regent, The Gatsby, Sutton Plaza, or any of Keener Management's other Washington, D.C. luxury apartments.
Source: