It's the time of year to get into the holiday spirit. If you want something different for your holiday decorations, these DIY projects are perfect for every home.
1. Repurpose Plant Pots
Small plant pots make beautiful bells when turned upside down. Simply add stylish designs in craft paint and secure yarn or rope to the top, and you're all set.
2. A Different Kind of Tree
Got leftover wrapping paper from last year? Place rolls from smallest to largest on a cardboard backing. Or stack books and wrap with lights.
3.  Fabric Scraps Get New Life
Reuse denim, flannel, or another material by wrapping alternating strips around a wreath form. Add some holly for Christmas home decor.
4. Add Garlands
Garlands are perfect for over doorways or windows and can even be placed around mirrors for a fresh and wintry feel.
5. Sweet Holiday Centerpiece
Foil-wrapped chocolate and peppermint candy are seasonal staples. Layer them by color in a clear glass cylinder and wrap with paper for a beautiful centerpiece.
6. Rustic Lights
Fill one-quarter of a large mason jar with Epsom salts and set real or battery-operated candles inside.
7. Glass Gift
A frosted block tile becomes a magical gift when you add lights and ribbon. Drill a hole in the side, insert a string of small lights, and wrap with ribbon.
8. Pinecone Placeholders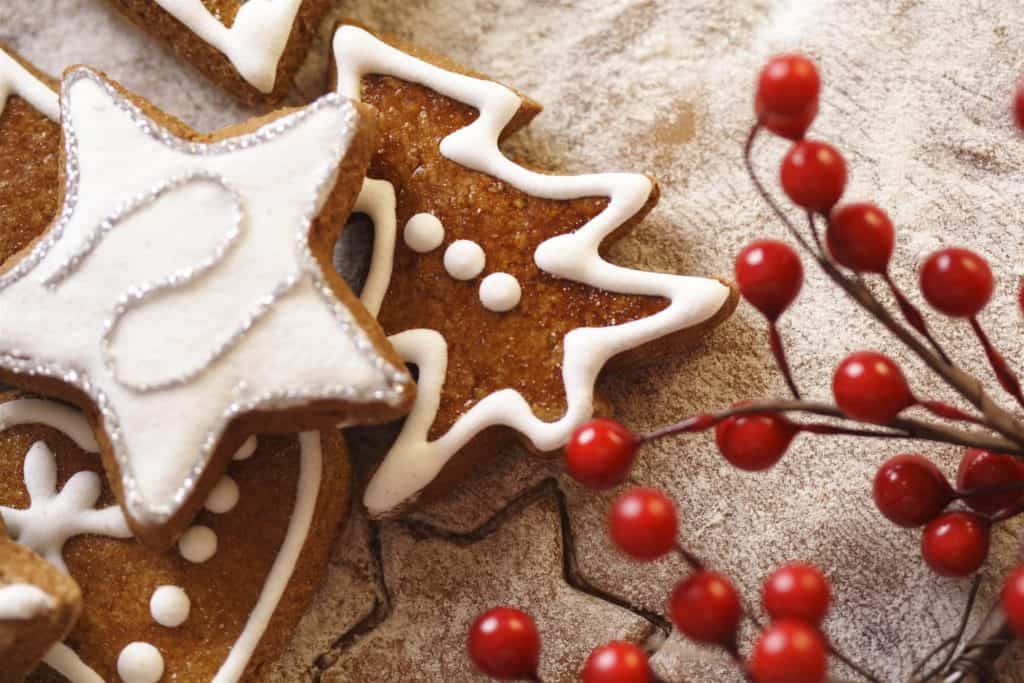 Pinecones are perfect name card holders. Sit them upright on dinner plates and set cards or stenciled letters between scales for the perfect holiday party décor.
9. Rethink Wrapping Paper
All of those oddly sized scraps of wrapping paper can make your serving ware that much more festive. Just cut to size and place food or utensils on top.
10. Reuse Empty Food Boxes
Any empty food boxes can be transformed into DIY Christmas decorations; just wrap with colorful paper and ribbon. Stack side by side on a shelf with assorted ornaments.
11. Decorate Your Chairs
Make dining a holiday affair by wrapping satin or velvet ribbon around the center of a chair. Secure in the back with a bow, and use a glue gun to attach berries and greenery.
12. New Sparkle for Old Candle Holders
Glam up those old wood or metal candle holders with gold and silver metallic paint for instant holiday chic.
13. Fun with Cardboard Tubes
Empty cardboard tubes can be cut into 2-inch pieces and glued together at their sides. Place holiday bulbs or jingle bells inside for an unusual wreath.
14. Paint Acorns
Dipping acorns in metallic or plain paint makes them ideal holiday décor for trees and walls.
15.  Your Own Glitter Candles
Plain white candles get a holiday boost when you add glitter. Paint Mod Podge around the bottom, and then sprinkle glitter to cover it.
Your New Apartment Awaits
Find the perfect space to make your own. Are you looking for affordable luxury apartments to rent in Washington DC? Keener Management has vacancies; contact us today to learn more