You don't need a fortune to make your apartment more homelike or more you. Decorating on a budget is easier than you think if you follow a few basic principles of interior design. Here's how to add a little style, comfort, and personality to your luxury apartment in Washington DC.
Start with the Staples
When you first move into your apartment, you have to furnish and decorate from scratch, and that means picking out those big staple items—the ones you can't live without. Obviously, a bed and a sofa are essential. You will, after all, need somewhere to lay your head and somewhere to rest your feet.
Beyond that, ask yourself what you value most. Do you entertain a lot? A decent dining table should top your list. Do you love to binge-watch your favorite TV shows or host huge game day parties? A big-screen TV and comfortable seating might be a bigger priority.
For your most important pieces, try to find the best value, but avoid the cheapest items. It's okay to skimp a little on the rest. If you rarely use the dining table, for example, go ahead and buy the yard sale throwaway.
Once you have your "anchor" pieces, you can begin to add other elements as you go. Some designers suggest choosing big items in a neutral palette. You can always add pops of color later, but at least you're not tied to any specific color scheme (it's easier to replace a throw pillow than it is to get a brand-new sofa).
Now Think About Lighting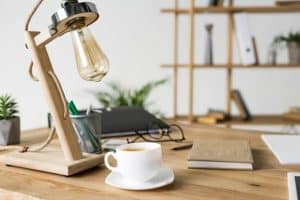 You can't do much without light. Whether you live in The Drake, The Harper, or The Gatsby, you'll enjoy plenty of built-in lighting, but that doesn't mean you shouldn't add some of your own. Before you do, think a bit about the style you're aiming for. Lamps and other lighting fixtures tend to come in every variety imaginable, and it's good to have a sense of what you want.
Your main job is to find some task lighting—the type of light you'll need to read, work, or do other things around the apartment. You'll probably want at least one floor lamp for the living room and perhaps a few table lamps for the bedroom, desk, and maybe even kitchen counter.
Beyond that, you could always throw in some ambient lighting for good measure. Tea lights, candles, hanging bulbs, or other decorative lights can add a great deal of charm and atmosphere to any apartment.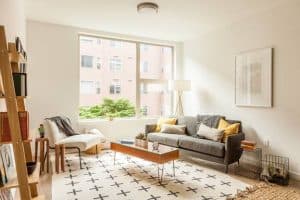 Add Pillows and Blankets
Now you can add some accent pieces. Pillows and blankets are a great place to start since they not only make your apartment more comfortable, but also add color, texture, and interest. As always, pay close attention to the first two—color and texture—which are essential in any interior design scheme.
Budget willing, it might be a good idea to invest in some down inserts, but, otherwise, you don't need to spend a lot of money. The great thing about pillows and blankets is that you can switch them out whenever you feel like a change. There are plenty of boutique shops (online and in the DC area) that sell beautifully designed pillow covers and throw blankets.
Decorate the Walls
Unless you're going for an extreme, minimalist look, you probably want to put up some sort of wall art. It could be as simple as a single photograph above the couch or a framed poster across from the bed. In fact, one huge piece of wall art or even a large mirror can make the apartment seem bigger and more spacious.
On the other end of the spectrum is the full wall collage. There are as many ways to pull off a gallery as there are apartments in Washington DC. You could go for a uniform look, or you could mix and match with photographs, illustrations, typography, wood letters, framed objects, etc.
Go Green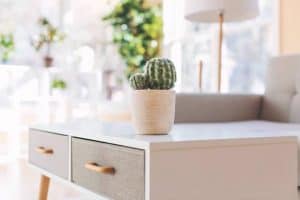 Most DC residents love the urban jungle, but that doesn't mean they couldn't use a little natural beauty in their lives. Bringing home a piece of greenery is one of the easiest ways to freshen up an apartment, whether you want the place to overflow with leafy plants and cascading greenery or you prefer to tuck a single fern in the corner.
Cacti and other succulents are a great choice since they require almost no water or maintenance, but they're not your only option. Take a trip to your local DC nursery, and you'll find foliage in a huge variety of shapes and textures. Don't forget about the pot, which can be every bit as important as the plant itself.
Consider an Area Rug
An area rug is one of the simplest, yet most stunning ways to transform your living room. Since most luxury apartments in DC feature beautiful hardwood floors, it's a great way to increase the comfort level by putting some warmth and coziness underneath your feet.
These days, you can find a rug in nearly every style, from simple textures and geometric patterns to intricate embroidery and elaborate designs. There's no reason to make it more complicated than it is. Big-box bargain stores carry rugs in a wide variety of materials, from wool and cotton to hemp and bamboo—even leather (yes, leather!).
Create a Welcoming Entryway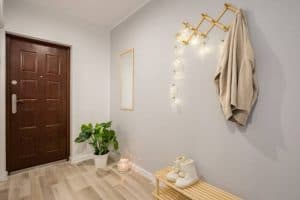 Too many apartment dwellers ignore the entryway. That's a shame. It's the first thing you see when you walk into your apartment. It sets the scene. It's where you throw your coats, bags, and shoes whenever you return home after a long day. All of which is to say, you should put a little thought into this space.
Fortunately, it doesn't take much to create a stunning entryway. Welcome guests with a small bookshelf, a console table, or a mirror that doubles as a coat hanger. You could also get creative with things like wooden stools, step ladders, benches, or even delightful old chests. While you're at it, scour local shops for a unique pot or wicker basket that's big enough to hold umbrellas for those rainy DC days.
Scatter Unique Items Throughout the Apartment
Once you have all the major items in place, you can then turn your attention to those little details that turn an apartment into a home. Need cheap decorating ideas for apartments? When it comes to décor, meaningful pieces add more to the overall look and feel of a place than the stylish but generic items you'll find at chain retailers.
That doesn't mean you have to display your great-grandmother's 100-year-old porcelain figurine. Even if you're not fortunate enough to have centuries-old heirlooms on hand, you can always find interesting artifacts lying around—if you know where to look.
In an urban center like DC, it's not that hard. Search the local area for boutiques, flea markets, yard sales, and even pawn shops—anywhere that serves up a healthy offering of unique décor. You can also find great vintage and handmade items on Etsy or even some online auction sites.
Clear the Clutter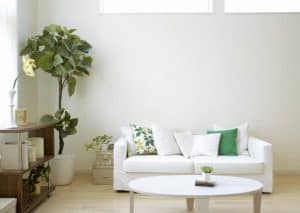 The average American doesn't suffer from a lack of stuff. Instead, most of us face a constant battle to contain the clutter. Our apartments overflow with things we don't need and don't remember buying in the first place. One way to hide the mess is to get unique furniture or décor that doubles as storage units. Think storage ottomans, vintage suitcases, birdcages (yes, birdcages), fabric-lined crates, or antique chests.
You could even invest in some wicker baskets and place them underneath or behind large furniture items like chairs or sofas. As for the kitchen, considering throwing up a temporary pegboard to hang utensils. Not only will it be useful, but it will also create a pleasantly rustic look on a budget.

Breathe and Enjoy
If it all seems a bit overwhelming, take a step back and a deep breath. Remember, you don't have to transform your apartment in a day. Tackle the job one square foot at a time, one task at a time, and you'll make slow but steady progress. Putting your personal stamp on your apartment shouldn't be drudgery. Approach it with the right attitude, and it could be a whole lot of fun.
Want more tips and tricks for making the most of your luxury apartments in DC? Stay tuned to our blog to learn more about living in the nation's capital.