Visitors and residents of Washington, DC have the unique opportunity of touring the White House and surrounding historic landmarks. With a little advance planning, you can take the White House tour and round out the day with a delicious meal at one of the nearby destination restaurants.
What to Know About Touring the White House
You will need to plan ahead to get approval for the White House Tour and submit a request well in advance. Security is high for touring the grounds, so be sure to prepare accordingly with these tips and guidelines. The exclusive chance to visit the east wing of the White House or take the White House Garden tour will be well worth the effort.
There is no charge for touring the White House, and public tours are typically held from 8:00 a.m. to 12:30 p.m. There are no tours on Sundays, Mondays, or federal holidays. You will be assigned a specific day and time when your request is approved. Be aware that your tour could be canceled or rescheduled based on weather or official WH business needs.
How to Get Tickets to Tour the White House
U.S. citizens will need to submit a request through their Member of Congress via their Congressional Tour Coordinator. You may contact the switchboard for the U.S. House of Representatives or U.S. Senate to reach the coordinator. Citizens of other countries will need to contact their nation's embassy in Washington, DC to submit a tour request.
Traveling to Your White House Tour
There is no public parking near the White House, so you will want to walk, bike, or take public transportation. The tour entrance is in Sherman Park, and rideshare travelers should use the White House Visitor Center as their drop-off point at 1450 Pennsylvania Ave NW. The closest Metrorail stations are Federal Triangle, Metro Center, and McPherson Square, but it is a short jaunt from the Dupont Circle and Logan Circle neighborhoods.
Things to Do When Touring the White House
These tips will help you enjoy your White House Tour and comply with expectations:
Respond to the RSVP link provided in your invitation.
Arrive at least 15 minutes early, as no late arrivals will be accepted.
Dress for the weather, as you will wait outside.
Use the restroom and eat a snack before you arrive.
Plan for a self-guided 45-minute tour, with Secret Service Agents in each room.
Bring valid identification like a U.S. driver's license, military ID, or passport.
Leave your personal belongings at home, in your hotel, or secured in a locker at Union Station.
Things NOT to Do When Touring the White House
Avoid these common mistakes that might prevent you from being able to participate in your White House Tour:
You may not bring a bag, backpack, or stroller on the tour.
No flash photography or video capture is allowed on the tour.
No cameras with lenses larger than three inches are allowed.
You may not bring anything on the forbidden item list.
When You Finish Touring the White House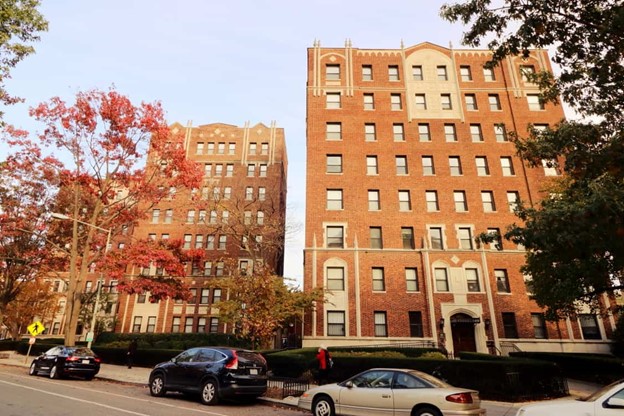 When you leave the White House south lawn, there is more to see and do nearby. You can savor fresh seafood at the Old Ebbitt Grill on 15th street, enjoy homestyle Indian food in an elegant atmosphere at The Bombay Club on Connecticut Ave, or kick back at the Blackfinn Ameripub for bar food concepts on I St. NW.
You might also tour these local landmarks to finish out the day:
The Eisenhower Executive Office Building, built in 1888
The Renwick Gallery, which is dedicated to American contemporary crafts
The Decatur House, with a unique and compelling 200-year history
Take One More Tour Before You Leave
1600 Pennsylvania Ave might be one of the most prestigious addresses in the world, but you can have your own notable address in a historic neighborhood or modern and vibrant DC community. While you are here, take a tour of a luxury apartment home close to the historical beauty and modern cultural landmarks DC has to offer, and make your home where the action is.