Life in DC has so much to offer. The thrill of a Washington Capitals or Wizards game remains within arm's reach. Endless restaurant options help you make the most of your nights out. Opportunities to expand your knowledge of American history lay within every corner of town.
Are you looking to score the perfect DC apartment? Keep reading to take a step toward accomplishing your goal.
Research Neighborhoods
DC contains a wide range of neighborhoods that offer their own distinct perks. Dupont Circle remains one of DC's most desirable neighborhoods. Attractive row houses and numerous nearby bars are just the beginning of what's great about Dupont Circle.
Dupont Circle
Safety is one of Dupont Circle's most significant benefits. The neighborhood is full of security that keeps the area in top-tier shape. DC locals and future DC residents looking for a central location can't go wrong with Dupont Circle. Happening DC areas like U-Street venues and the National Mall are a short metro ride or walk away.
14th Street
14th Street near U Street and Logan Circle is one of DC's most sought-after neighborhoods. Iconic DC music venues like The Black Cat are right around the corner. Weekends provide a vibrant splash of life with people of all ages walking to their favorite DC destinations.
Kalorama
Kalorama is one of DC's most exclusive neighborhoods. Amazon Founder Jeff Bezos and Former U.S. President Barack Obama are two notable Kalorama residents. Residents of the Kalorama area can enjoy a luxurious urban atmosphere that's simultaneously quiet.
Woodley Park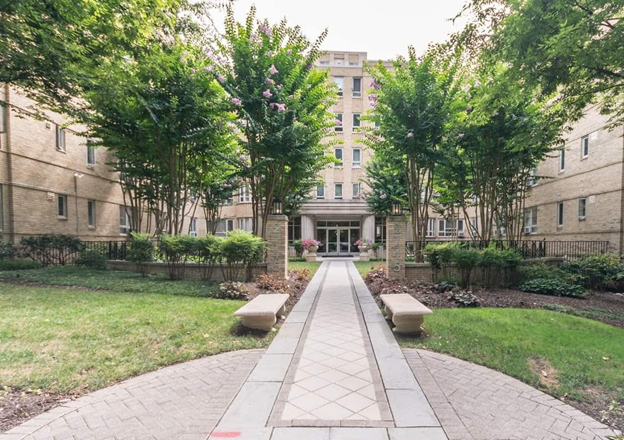 Many DC locals consider Woodley Park one of the city's most walkable neighborhoods. Having the ability to run regular errands on foot is always a plus. Woodley Park residents are able to enjoy plenty of trees and nature within their surroundings. The nearby Cleveland Park and Woodley Park Metro stations make traveling by train an easy task.
Columbia Heights
Charming properties come standard in Columbia Heights. 14th Street and U Street hotspots remain a short walk away, while downtown DC remains a 10-minute drive away.
Rosslyn
Rosslyn residents receive prime views of Washington DC. Notable viewpoints from Rosslyn include:
Georgetown
National Mall Monuments
The Potomac
Fantastic lunch options and prime Metro access only add to the list of benefits that Rosslyn residents experience.
Establish a List of Criteria Before Looking Including Your Budget
Establishing a list of apartment criteria before you begin your search can help you settle for more instead of less. Think about what you need within your living space. In-unit or in-building laundry is often at the top of DC apartment-hunters' lists.
Apartment amenities like a 24-hour front desk or a game room are naturally going to come at a higher price. Outlining your budget can help you align your list of criteria with what you can realistically spend.
Understand the Application Process
Understanding the general components of a DC apartment application can help you streamline your search. Apartment hunting in DC is competitive. Stay ahead of the curve by bringing:
Two recent pay stubs
Your credit score
A photo ID
References (previous landlords or employers)
Co-signer (if necessary)
Make Your Dream DC Apartment a Reality with Keener Management
Knowing where to look is your key to finding an ideal Washington DC apartment. Keener Management gives DC apartment-hunters the direction they need to score affordable luxury apartments in the city's most desirable neighborhoods. Check out our site's property listings before contacting us at 202-249-0894 to arrange a tour.