Washington DC remains the ideal place to honor the numerous sacrifices members of our armed forces have made. Let's dive in all of the ways you can create a memorable 2021 Memorial Day weekend.
Memorial Day Parade
The National Memorial Day Parade is a timeless Washington DC tradition. Recent COVID-19 restrictions will result in a broadcast-only version of this year's parade. Viewing this nationally televised event is perfect for DC locals looking to enjoy Memorial Day weekend from the comfort of their homes.
2021 is going to bring a newly televised Memorial Day Parade program to your living room. "Our Sacred Honor: An American Salute" will play alongside this nation's iconic Memorial Day Parade.
Be sure to look out for the National Memorial Day Parade on CBS, ABC, NBC, Fox, and CW stations across the country.
Visit the National Mall
Strolling along the National Mall's pathways makes it easy to recognize the heroism members of our armed forces have exhibited. Washington DC locals are familiar with the National Mall's stunning views that provide a front seat to our country's most coveted monuments.
The Vietnam Memorial Wall is a National Mall staple that features over 58,000 names of soldiers killed in action. Washington DC does an exceptional job personifying the bravery and cost of war with the Vietnam Memorial Wall's thoughtful architecture.
Visitors of the Korean War Memorial will be struck by this National Mall section's multi-faceted design. The Pool of Remembrance is a section of the Korean War Memorial that prompts thoughtful reflection with its quiet atmosphere.
Expect plenty of insta-worthy moments if you walk through DC's National Mall this Memorial Day weekend.
Pay Your Respects at Arlington National Cemetery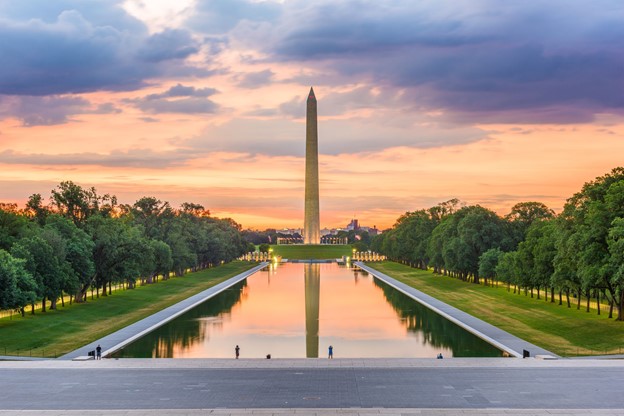 Arlington National Cemetery is the perfect place to pay respects to thousands of veterans who passed away in the name of U.S. freedom. Over 400,000 military members and their immediate family members rest at Arlington National Cemetery. These numbers make Arlington National Cemetery the largest military cemetery in the United States.
Memorial Day Arlington National Cemetery visitors will be able to gain admission free of charge. Important sites within this cemetery include the Tomb of the Unknown Soldier.
Unidentified fallen soldiers during World War I, World War II, The Korean War, and Vietnam are represented by the Tomb of the Unknown Soldier's large white sarcophagus. The Tomb of the Unknown Soldier is guarded 24 hours a day by elite 3rd US Infantry Regiment Tomb Guard Sentinels.
Visit the Iwo Jima Memorial
The Iwo Jima Memorial is easily one of DC's most moving locations. This memorial depicts and recognizes the six Marines that raised the second U.S. flag atop Mount Suribachi in Japan. Planting this flag signified the end of the U.S. campaign in the Pacific during World War II.
You'll be able to visit the Iwo Jima (U.S. Marine Corps) Memorial from 6:00 a.m. to midnight this Memorial Day weekend. Be sure to take snapshots of the surrounding area while you're here. Iwo Jima Memorial views include the Lincoln Memorial, the Washington Monument, and more.
Keener Management Keeps the Ideal Memorial Day Weekend in Arm's Reach
Keener Management's properties give you easy access to Memorial Day weekend's most exciting DC activities. Our affordable luxury properties like The Drake in Dupont Circle make a trip to the National Mall a short metro route, drive, or Uber trip away.
Explore our site's properties to find a DC location that sets the stage for a quality 2021 Memorial Day Weekend.