Is there a better place to enjoy Independence Day than the nation's capital? Washington DC offers you plenty of opportunities to make lasting memories on this upcoming Fourth of July. A skyline with picturesque monuments and the celebrity-filled Capitol Fourth concert is just the start of DC's exciting Independence Day events.
Let's dive into some specific activities that will make for a memorable 4th of July celebration in Washington DC.
Washington DC 4th of July Fireworks
One of the country's most exquisite firework displays occurs every July Fourth against the city's skyline, memorials, and monuments. This blend of scenery creates a picture-esque setting that generates plenty of excitement upon viewing. The best part about this firework display is that you'll have plenty of location options that supply you with a quality event perspective.
Here's a quick list noting some of the best spots to view this spectacular firework display:
The National Mall
Across the Potomac River
Rooftop bars throughout DC
Ground-level in restaurant outdoor dining and drinking areas
Attend a Washington Nationals Afternoon Game
DC sports fans love to convene at Nationals Park in Navy Yard for a quality matchup. What better opportunity to see the Nationals take on the defending World Series Champions than on this upcoming Fourth of July?
The Nationals have been on quite a hot streak lately. DC's lead-off hitter Kyle Schwarber has been hitting home runs left and right while breaking a few league records along the way. This MLB game's afternoon scheduling gives you plenty of time to enjoy other DC Independence Day activities at night.
Visit the National Museum of American History
DC's Smithsonian Museum of Natural History is reopening to the public just in time for the Fourth of July! This multilevel museum allows you to experience the evolution of America's identity from colonial times up until now.
A standout National Museum of American History piece is the original Star-Spangled Banner that flew over Fort McHenry in 1814. It will be hard for your day to get more patriotic than paying the Star-Spangled Banner a respective visit.
Explore Mount Vernon
Exploring Mount Vernon gives you a chance to receive in-depth insight into our first President's homelife. Washington's estate is packed with plenty of museums, clear views, and gorgeous gardens. Visitors navigating Mount Vernon have the exclusive opportunity to visit the final resting place of George Washington and his wife Martha.
Spend Time at the National Mall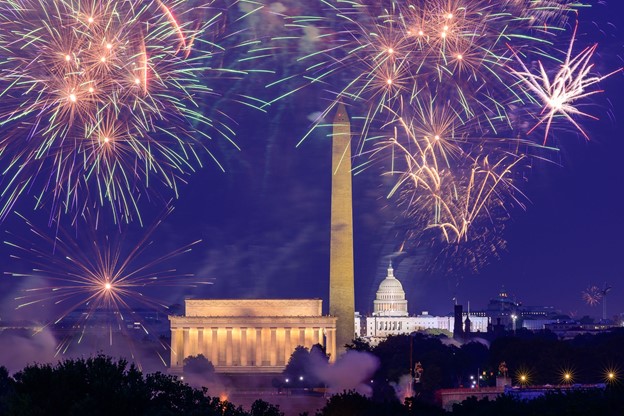 Many DC locals consider the National Mall one of the city's best places to spend a Fourth of July holiday. Connective walking pathways allow you to navigate the National Mall with ease, while each of the property's monuments and memorials has something unique to offer.
Walking through National Mall areas like the Vietnam Memorial helps you acknowledge the men and women who sacrificed so much for America's freedom. Consider paying the National Mall's Lincoln Memorial a visit to acquire an exceptional view of the Washington Monument and the surrounding DC cityscape.
Keener Management Helps You Get the Most Out of Your Fourth of July
Keep quality DC Fourth of July activities an arm's reach away with Keener Management's Washington properties. Our company offers you access to affordable luxury properties in seven of DC's most in-demand neighborhoods.
The National Mall's signature Fourth of July sights are a short car or metro ride away when you reside in Keener Management properties like The Hamilton House in Dupont Circle. Explore Keener Management's 14th Street and Logan Circle properties to see how you can keep bar and restaurant firework views within walking distance.
Take your Fourth of July experience to the next level by giving Keener Management a call at 202-249-0894 to explore one of our many DC properties.