Cherry blossoms are a staple of Washington D.C. culture. You might be surprised to hear how humble the history of D.C. cherry trees truly is.
1885 led to world traveler Eliza Ruhamah Scidmore returning from Japan to request the planting of cherry trees along the Potomac waterfront.1 Japan has been celebrating the blossoming of cherry trees for centuries. No public officials ever took the time to grant Scidmore's request.
1906 was an instrumental year for the development of cherry blossoms in the D.C. area. Dr. David Fairchild began planting cherry trees on his Chevy Chase property on the edge of D.C. city lines.1 Fairchild's experiment was a success, as his cherry trees were thriving in the environment.
Eliza Ruhamah Scidmore wrote a note to First Lady Helen Taft, in 1909, outlining her plan to raise money for a D.C. cherry tree donation. Helen Taft saw Scidmore through, which led to Tokyo's mayor donating 2,000 cherry trees to D.C.1
The first shipment of 2,000 cherry trees contained an infestation of insects and nematodes. 1912 led to a donation of 3,020 cherry trees.1 The first "Cherry Blossom Festival" took place in 1935.1
It's natural that people visiting or living in the D.C. area want to see cherry trees during peak bloom.
When Is Peak Bloom Expected?
Peak bloom involves 70% of Yoshino Cherry trees blossoming.2 The final week of March and the initial week of April are prime times for cherry blossom trees to reach peak bloom.
Extreme weather shifts can affect peak bloom predictions year to year. The earliest peak bloom time in D.C. was March 15th in 1990.2 The latest peak bloom date for cherry blossoms was April 18th in 1958.2
You'll typically have several days to view peak bloom when it occurs. Weather conditions primarily dictate a blooming period's length of time.
Calm and cool weather best support the blooming of cherry blossoms. Rain and wind can halt a blooming period. The worst-case scenario is no blooming at all due to a late frost.
Knowing when to see cherry blossoms bloom in D.C. is essential. Knowing how to initiate your cherry blossom watch in 2021 is equally as important.
How to Safely View the DC Cherry Blossoms in 2021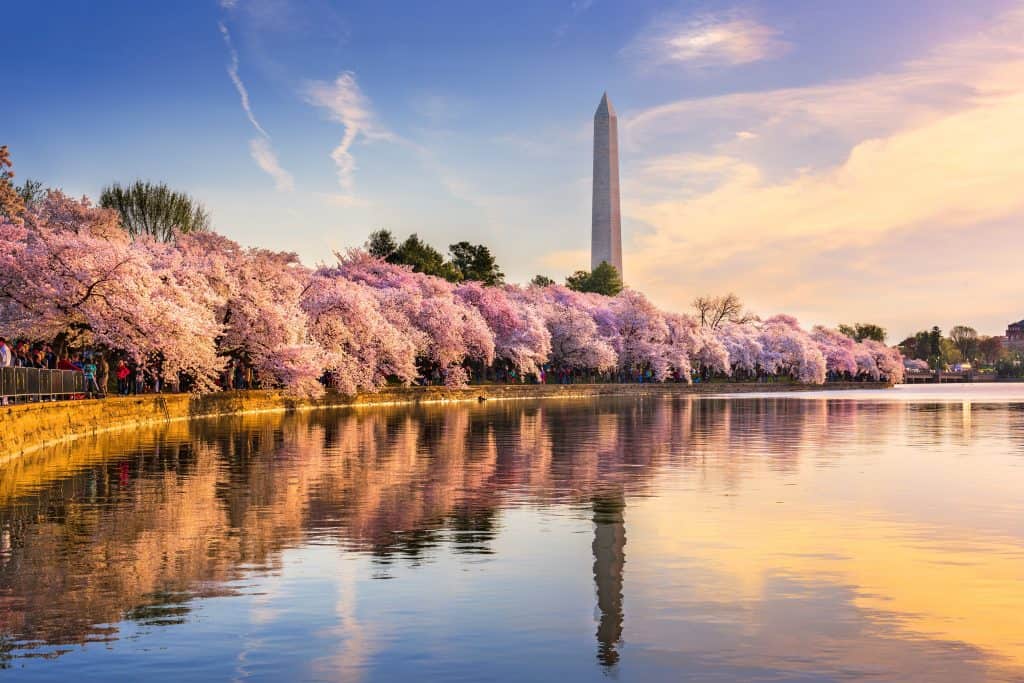 COVID-19 has led to the cancellation of the 2021 Cherry Blossoms Parade. The National Cherry Blossom Festival's organizers are planning a hybrid of in-person and virtual activities.
These events include:3
A one-hour TV special
20 sculptures throughout D.C.
Music and food events
Safely viewing the cherry blossoms in D.C. can consist of you wearing a mask at limited-person events or viewing peak bloom online around iconic National Mall locations like the Washington Monument and the Jefferson Memorial.
Keener Management: Affordable Luxury
Witnessing the blooming of D.C. cherry blossoms can spark a desire to live in Washington. Those looking to experience the D.C. cherry blossoms from a local standpoint can benefit from exploring our properties.
Keener Management offers affordable luxury properties in D.C.'s most desirable neighborhoods. We don't just place you in D.C.'s best neighborhoods. We set you up in the best properties as well. We're proud to offer properties in coveted D.C. buildings like Dupont Circle's The Drake, The Harper on action-packed 14th Street, and The Park Crest in lovely Kalorama.
All of our D.C. properties make experiencing the beauty of cherry blossoms easy and accessible. Take a step toward living your D.C. dream by contacting Keener Management at 202-249-0894.