There's a lot going on this summer in Washington! If you're soon planning on looking for luxury apartment rentals in Washington DC or are already lucky enough to live here, you're going to love our guide to all of the activities you can take part in outdoors, because there's something for everyone. Let's go!
Hiking
If you enjoy walking your way through natural spaces, you'll definitely enjoy hiking near Washington DC, where there are locations that feature everything from Civil War fortresses to waterfalls.
For those who are just starting to hike or just want something that's less of a challenge, there are many options. Theodore Roosevelt Island is one of them and, although it's just 1.6 miles long, you'll enjoy boardwalks, river views, and forest beauty all the way.
Hikers who enjoy lots of variety in trail length will love Rock Creek Park, which offers trail networks that range from mild to challenging. However, all offer the chance to see historic and natural landmarks.
Paddle Boating
Paddle boating is not only a great way for those of all ages to get outside and get active but, in DC, it's a tradition that takes place in the Tidal Basin. Both 2- and 4-person paddle boats are available, but you can also get a swan boat, which is equipped with a motor if you want a break between paddling sessions.
So, what can you see from your paddle boat? In spring, you can marvel at the cherry blossoms. When summer hits, delightful views of flora and fauna abound. Of course, you can always enjoy several monuments, including the Jefferson Memorial and many others along the shore.
Cycling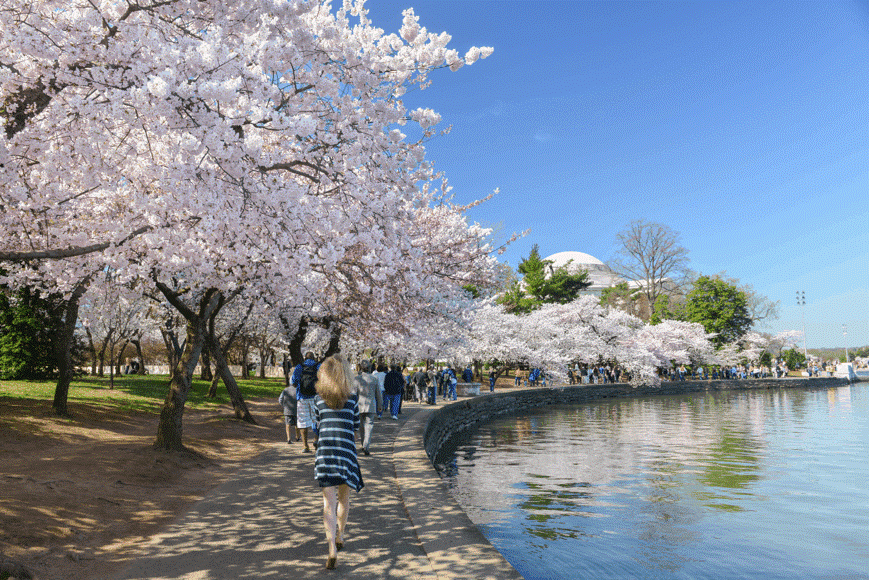 Biking around Washington DC is another great activity that you can participate in from just about anywhere, thanks to the Capital Bikeshare program. Just get a day pass and hop on a bike, or take advantage of Bike and Roll to book a bicycle tour. There are so many trails to choose from in this bicycle-friendly city that you'll never get tired of exploring new neighborhoods, green spaces, and memorials.
Sailing
If hiking, paddle boating, and cycling aren't your thing, why not try your hand at sailing? Classes are available on the Potomac River, and it doesn't matter if you're a newbie or a seasoned sailor because there are lessons for everyone at the Washington Sailing Marina in Alexandria, VA. From one-day courses to day camps and weekend excursions, you'll get lots of experience and enjoy some beautiful views too.
As you can see, there's no shortage of Washington DC outdoor activities to take part in. So, what are you waiting for? DC's natural spaces are calling!
If you're moving here soon, don't forget to include Keener Management properties in your home search. Our 16 properties offer modern amenities, entertainment, and shopping just steps away, and so much more. Our Washington DC apartment properties can be viewed online, or you can call our concierge help you find your perfect place: 202-249-0894.