Both residents and visitors have access to some amazing cultural tours in the capital of the USA. This is a walkable and vibrant city that prides itself on having something for everyone, so if you're looking for a history or culture tour in Washington, DC, then here are some inspiring ideas.
National Museum of African American History and Culture
Less than a 30-minute scenic walk from Logan Circle, you'll find the National Museum of African American History and Culture. It's the only national museum dedicated to the culture and history of African Americans, making it one of a kind.
The museum aims to educate visitors on the contributions that African Americans have made to the history of the USA. It holds more than 40,000 artifacts, each of them with a fascinating story to tell. Whether you're African American and looking to connect with your history or simply looking to learn more from an outside point of view, you'll come away from the experience changed.
DC Neighborhood Heritage Trails
Cultural Tourism's DC Neighborhood Heritage Trails provide walking tours to familiarize you with DC and the rich history that's present here.
For history tours in DC, the DC Neighborhood Heritage Trails have become known as the go-to—and there's a good reason for that. There are eighteen self-guided trails throughout the city, so if you've taken up residency here (or are planning to), you can make the time to explore all of them.
Each trail is signposted and offers tidbits of history and fascinating photographs along the way, so you can easily follow the trail while immersing yourself in the city. No matter where you've taken up residence in Washington, DC, there might be one near you.
Goethe-Institut Washington
Not far from The Harper Apartments, you'll find the Goethe-Institut Washington. This is a German institute that allows people to learn both the culture and language of Germany, immersing themselves and enriching their lives.
They offer classes, book clubs, and other events.
Chinese American Museum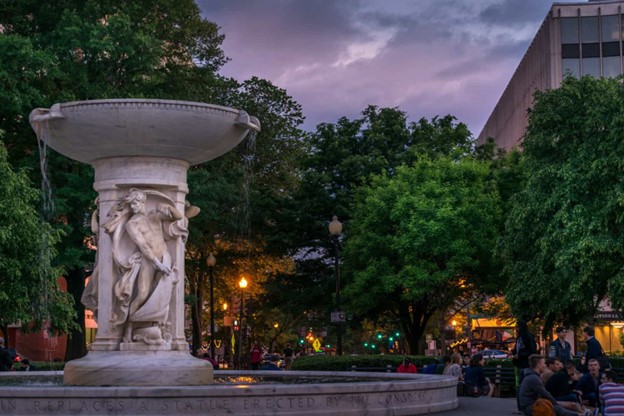 The Chinese American Museum is nestled between The Drake Apartments and The Gatsby Apartments, conveniently located a few minutes' walk from each. For museum and culture tours in DC, this is a must-visit.
It celebrates Chinese American history and culture, showing the incredible contributions that Chinese Americans have made to the USA—and what they continue to do. Check out some of their permanent exhibitions, like Journeys and Origins: The Birth and Rise of Chinese American Communities in Los Angeles.
National Museum of American History
Head a little south to find a must-visit for anyone, American or visitor: the National Museum of American History. They own almost two million objects related to the history of the USA, allowing residents to immerse themselves in their own history and feel truly connected to their heritage and culture.
Even visitors here will find the National Museum of American History fascinating. They have some incredible objects with amazing stories behind them, such as Abraham Lincoln's top hat.
They also frequently hold different events and exhibitions, such as Hispanic Heritage Month, acknowledging the great things that many different people have done for the country.
Stay Close to the Best Tours in Washington, DC
Washington, DC is a vibrant city steeped in culture and history. If you're moving here and looking to get the most out of it, consider staying in one of Keener Management's properties. We have apartments all around the city and can help you feel right at home while you immerse yourself in DC life.