Being situated conveniently in the northeast of the United States means that Washington, DC is close to a lot of great skiing locations. With some of the most sought-after snow-capped mountains as little as a couple hours' drive away, it shouldn't be too hard to find a spot that suits your skill level and has all the amenities you required.
Looking for the best skiing near Washington, DC? Check out these locations and our tips for making the most of your trip.
Ski Resorts in Pennsylvania
Part of the Vail Resorts family, Whitetail, Liberty Mountain and Roundtop Mountain all offer skiing and snowboarding at every skill level, along with lessons, convenient equipment rental, and many lodging and dining options.
Whether you're taking off from Logan Circle or Dupont Circle, you can comfortably reach Whitetail and Liberty Mountain in about two hours starting up I-270 N, and a little over a half hour more will put you at Roundtop Mountain.
Whitetail Resort – Mercersburg, PA
Whitetail Resort opened in 1991 and has been a popular skiing destination ever since, offering some of the best skiing near DC, with 23 trails and 8 lifts. The resort has also become a year-round destination with activities such as golf, mountain biking, and hiking during the summer months.
Liberty Mountain Resort – Fairfield, PA
Liberty Mountain Resort features 16 trails and 8 lifts, with a good mix of runs for all skill levels—35% beginner, 40% intermediate, and 25% expert. As a four-season resort, Liberty Mountains also offers a championship 18-hole golf course, complete with a driving range, practice greens, and a pro shop.
Roundtop Mountain Resort – Lewisberry, PA
Offering 20 trails and 9 lifts that cater to skiers and snowboarders of all skill levels, Roundtop Mountain Resort is definitely worth checking out. The resort also offers snow tubing—not just for kids! There are up to 10 tubing lanes, and a magic carpet lift to take you back to the top.
Wisp Resort in Maryland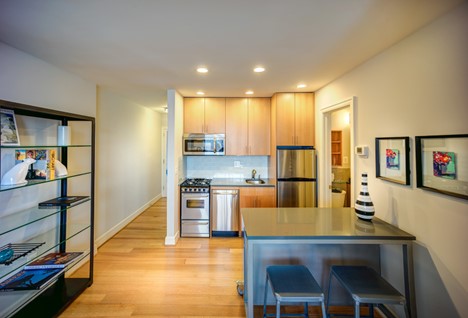 Pennsylvania isn't the only surrounding state with some exciting skiing locations. The other closest ski location to DC is Maryland, and you can't do much better there than Wisp Resort in McHenry. It's the state's only four-season resort, so if you want to head west, it's your best option. Along with 33 slopes totaling 11 miles of trails for winter sports lovers, Wisp offers warm weather aerial and water adventures, including whitewater rafting and kayaking.
With Dupont Circle as your starting point, you can easily reach Wisp Resort in a little under three and a half hours taking I-70 W to I-68 W—the perfect distance for a long weekend getaway.
Snowshoe Mountain Resort in West Virginia
Last but certainly not least, Snowshoe Mountain Resort offers three distinct ski areas with over 60 trails and glades, as well as snowmobiling and sleigh rides. Summer activities include mountain biking, golfing, hiking and horseback riding. There are also plenty of lodging and dining options for every budget and taste.
You'll reach Snowshoe Mountain from Dupont Circle via I-66 W and WV-28 S in about four and a half hours, so pack your favorite road snacks and take your time—it will be worth it when you get there!
Tips for Planning a Ski Trip Near Washington, DC
If you're planning a ski trip near DC, it's critical to bear these tips in mind:
Pack appropriately, keeping an eye on the weather forecast to ensure you know what to expect from your visit—and remember, forecasts can change, so keep checking back!
Bear your skill level in mind, researching the trails beforehand.
Plan your route and account for delays and cancellations, ensuring your car is equipped for winter conditions or you've purchased your public transportation well in advance.
Make sure you have the right equipment or prepare to rent the equipment at the location, checking the resort has what you need in advance.
Choose Keener Management for Your DC Base
Washington, DC is an amazing base for winter sports lovers, from easy transportation access to multiple resort options. And nothing feels better than coming home from a ski trip to a Keener Management luxury apartment—your sanctuary in the city. If you're ready to make DC your home, check out our availability and feel free to reach out with any questions.