If you're moving to the capital of the USA, it's critical to research the best neighborhoods in DC. Although this great city has many amazing areas and it's hard to go wrong, some DC neighborhoods are undeniably better for walkability, culture, or another aspect that might be very important to a future resident.
The neighborhoods in DC are diverse, and finding the one to suit you is key to making your time in this city the best it possibly can be.
If you're exploring the idea of living in Washington, DC, check out these neighborhoods that are quite inspiring in terms of history, food, culture, walkability, and more.
Dupont Circle
In the "Old City" area of Washington, DC, you'll find charming Dupont Circle. It's a popular neighborhood partially due to its close proximity to downtown DC and its rich culture, but it also has some incredible architecture that will keep you gazing up in wonder for however long you live here.
If walkability is a big factor for you, then Dupont Circle might be the place to live. Take a stroll and people watch by Dupont Circle Fountain, pick up fresh produce at the year-round farmers' market, or stop into any number of the cute cafes, bookstores and museums. If you want to go further out, there's a metro station nestled within the neighborhood that can take you as far out in DC as you need to be, all in just a few minutes.
Dupont Circle also has a wonderful neighborhood feel that's rare to find in a big city. If you're looking for an apartment here, Keener Management has a number of luxury Dupont Circle properties, including The Drake and The Preston.
Logan Circle
Logan Circle is a vibrant neighborhood located in the northwest quadrant of Washington, DC. It is known for its historic architecture, tree-lined streets, and lively community. It has many sites listed on the National Register of Historic Places, including the Logan Circle Historic District. So if history is a passion of yours, you'll never get tired of living in this neighborhood.
Between M and U streets, you'll find a wide selection of eateries, an energized nightlife scene, and plenty of shopping opportunities. With accessible transportation and a variety of housing options, this neighborhood attracts young professionals and families alike. For Logan Circle luxury apartments right in the heart of this charming historic neighborhood, check out The Gatsby and Sutton Plaza.
14th Street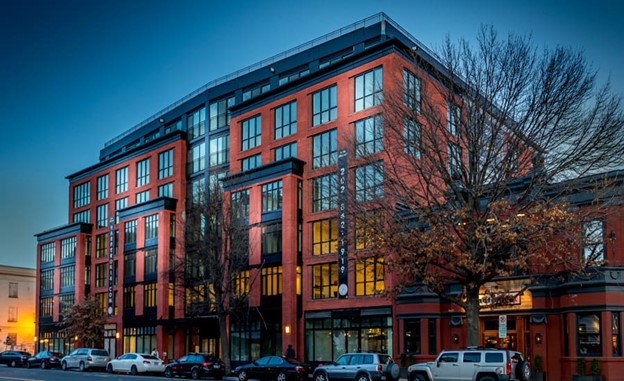 If you want to get in early on a neighborhood gem, there's no better time to move to 14th Street. Bustling with culture, this rapidly developing neighborhood is home to many trendy bars and restaurants, so you'll have good food and drink in short walking distance of your front door. For those who crave a bustling social scene, there's no better place.
It's also home to some amazing art galleries and boutique stores. Those looking for one-of-a-kind sights and trinkets won't be disappointed by what they can find here.
Best of all, having so much of DC within walking distance is invaluable—and anything that's not accessible by foot is a short metro ride away. Keener Management's The Harper is right in the heart of this thriving neighborhood, putting you at the center of the action.
Why Keener Management?
With so many amazing places in DC to choose from and a wealth of apartment buildings, why us?
Keener Management has chosen the locations of our luxury apartments well. We know the convenience of having the best sights the city has to offer within walking distance and being well taken care of in your new home, and we prioritize our residents' happiness and comfort above all else.
We also have apartment buildings with various amenities for your convenience, such as valet dry cleaning services, pools, garage parking, and more (depending on the property).
Looking for your new home? Why not check out our availability in this amazing city today?