The Harper Apartments on 14th Street in Washington DC offer luxury apartment homes in the heart of a vibrant neighborhood. Filled with Michelin-approved restaurants, unique galleries, funky boutiques, alternative music, and the trendiest coffee shops, 14th Street is one of the best addresses in Washington, DC.
The Harper Apartments on 14th Street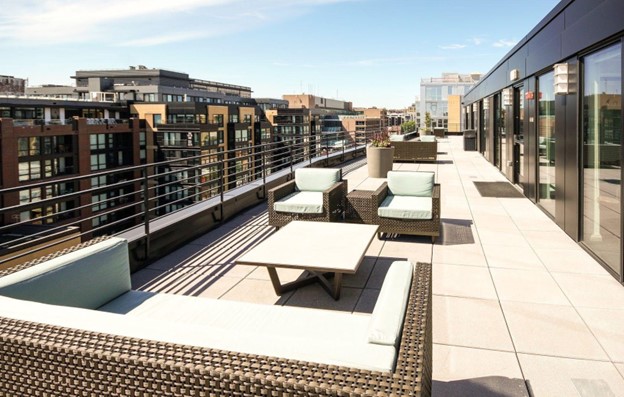 The Harper is located at 1919 14th St. NW and features brand new luxury apartments in Washington DC with an ideal location and competitive pricing. With studio, junior-one-bedroom, and larger one-bedroom apartments, The Harper is a popular choice for young professionals with active lifestyles.
Innovative And Beautiful Designs
The Harper's 14th Street Washington DC apartments have floor-to-ceiling windows, recessed lighting, and EcoTimber red oak flooring. The clean, modern, efficient designs of our studio and one-bedroom apartments have custom closets, stainless steel appliances, and a washer and dryer in each apartment home.
Eco-friendly Green Features
The Harper's one-bedroom and studio apartments in Washington DC are outfitted with highly efficient VRF heating and AC units, insulated glass windows, LED and fluorescent lighting, and water-saving plumbing fixtures. Corridor carpets are made from recycled materials, and the wood flooring is an EcoTimber product.
Amenities That Enhance Your Life
People who make their home at the Harper enjoy a rooftop patio with grill stations, a fitness center with amazing views of the city, as well as a business center, package reception, and onsite security. There are storage lockers, bike storage, and on-site parking available for a small additional fee.
Luxury Living On 14th Street in Washington DC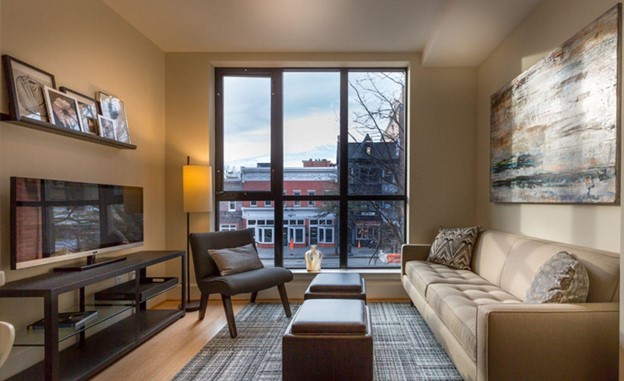 Despite the modern surroundings, services, and community at the Harper, stepping outside the doors leads you to one of the best amenities of our 14th Street Washington DC apartments: the 14th Street bars, shops, and restaurants within walking distance. Let's picture a day in the life when you live at The Harper amid the buzz of the 14th Street neighborhood..
After your morning workout in the gym, you can venture out to the Colada shop for a relaxing cafe con leche or cuban coffee. Enjoy the pastel patio with some locals and people-watch. The Colada Shop is also great for lunch or after-work mojito.
Do some shopping at Miss Pixie's Furnishings & Whatnot for unique vintage wear, decor, or antiques, and be sure to snag a mini-cookie at the register. Stop in afterward at Salt & Sundry for kitchen and home items from elegant to funky, including unique barware and local ingredients for cocktails at home on the rooftop.
For high-quality foods at home, Trader Joe's is right across the street from the Harper, and Whole Foods is just a few blocks away. If you don't feel like cooking tonight, the restaurants on 14th Street in DC are varied and famous for the best dining experiences available.
Some of the places to choose from include:
Le Diplomate, for french cuisine, a bakery, and a chic but laid-back atmosphere
Bresca, which is Catalan for honeycomb and features bee motifs, window seats, and ornate Michelin-star cuisine
Pearl Dive Oyster Palace, with select oysters, American seafood, duck confit, and po'boys
Black Jack & TILT Side Bar, for craft cocktails, food, happy hour specials, and movies projected on the brick wall
Lupo Verde for Italian dishes and wines, including cheeses and cured meats made in-house
Chicken + Whiskey, which features fine whiskey and slow charcoal roasted rotisserie chicken with guasacaca sauce and fried plantains
Ice Cream Jubilee, which rounds out your meal options with creative ice cream flavors like apple-butter oatmeal or sweet-potato molasses
Finish out the night at the Black Cat for monthly headliner events, alternative artists, and an underground indie music scene. This community hot spot is a favorite place to gather for cheap beer and a hipster vibe.
Joining the 14th Street Community
The exciting bustle of artistic and cultural events on 14th Street offers something for every interest, and this inclusive community is a rewarding place to live and work. If you are considering living on 14th Street in Washington DC, The Harper should be your first choice.
The Harper is a destination of its own and a prestigious residence you will be proud to call home. Beautifully appointed and located in the heart of everything, there is a brand new luxury apartment waiting for you to tour today at one of our Keener Management 14th Street residences.