Have you heard about the Giant Barbecue Battle coming up soon? This event is a premier DC food festival that takes place June 25 to 26, 2022.
Celebrating The Best BBQ in DC and Across the Country
With food, music, interactive events, expert advice, and cooking contests, this BBQ battle in DC kicks off with a "Rib-Cutting" opening ceremony June 25th at noon. The event runs from 11 a.m. to 10 p.m. on June 25th, and 11 a.m. to 7 p.m. on June 26, 2022. Admission is free with a BOGO coupon from Giant Food Stores or $20 for adults and $10 for children 6 to 12.
The BBQ Fest 2022 takes place along historic Pennsylvania Avenue, near several of our Keener Management properties. Whether it's a few steps from your door or a short ride away, the Giant national capital barbecue battle has something for everyone. The event benefits the USO and local food banks and raises millions of dollars for charity each year.
What Can You Do at the BBQ Battle in DC?
The Giant BBQ Fest in DC has activities and tastes for every age and palate, including a meatless BBQ competition. 2022 official events are:1
Taste of Giant Sampling Pavilion and Demonstration Stage
National Barbecue Championship Cooking Contest
Giant Corks to Caps Wine and Microbrew Sampling
National Cookbook Authors and Celebrity Chefs
Three Stages with Rock, Reggae, Jazz, Blues, and Go-Go
Giant Chill Zone interactive Family Area
BBQ Vendors from Across the USA
Exhibits, Contests, Prizes, and More
Competition Barbeque in Washington DC
Compete for fame, glory, cash prizes, and the title of National BBQ Champion or enjoy free food samples and BBQ Pitmaster Q&A sessions. The Kansas City Barbeque Society has sanctioned the Giant National BBQ Championship competition with saucy categories like these:
Perdue Sizzlin' Chicken Contest, with the winning team earning the title of Perdue Sizzlin' Chicken Champion
Smokin' with Smithfield Rib Contest featuring pork ribs and the Smokin' with Smithfield title
National Pork BBQ Championship where a new national champion will be named based on two pork entries submitted on Sunday
National Turkey Federation Turkey Smoke Contest that will be judged on Saturday
Beyond Meat BBQ Championship where the highest scoring team will be named the Beyond Meat Champions
National Steak Cook-off with the winning entry to be named National Steak Champion
Nation's Best BBQ Sauce competition where teams compete for the title of America's Best BBQ sauce
Associated Events at the Barbecue National Championship Event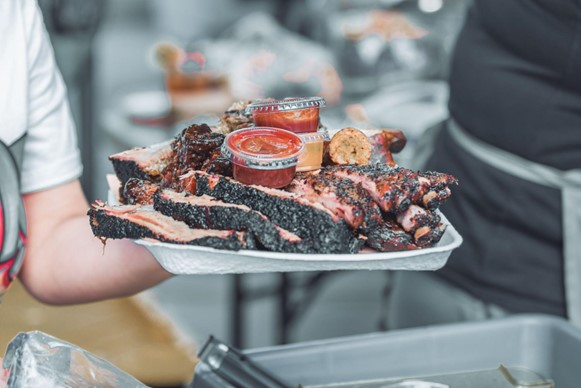 Other spicy and saucy events take place prior to the Giant BBQ Battle in DC, and are judged or winners announced at the event. Some of these are:
Junior Chef Competition presented by Kingsford Charcoal – Young chefs enter online and submit a BBQ recipe and photo for people's choice judging. Three finalists will be selected for a Junior Chef cook-off at the Giant BBQ Battle.
Military Chef Cook-Off to benefit USO-Metro – Hosted by Veteran and celebrity chef Robert Irvine, all branches of the service face off in a battle of the BBQ ribs, with winners chosen by the attendees.
Heinz Art of the Burger Contest – Photos must be submitted of creative and stunning burger artwork before the event. Then they will be judged on creativity, build, sauce, and presentation.
Getting to the Best Neighborhood Events in Washington DC
Enjoy the best the city has to offer when you live within easy reach of the culture, entertainment, and attractions of your favorite DC neighborhoods. If you live in the M Street Towers or Sutton Plaza under the Keener Management umbrella, the Giant BBQ Battle is close to home!
All of our luxury modern apartments in the Washington, DC area have all the amenities you want and access to beautiful communities full of vibrant and diverse activities and destinations. Check our available properties list today for your new home in the most beautiful areas of our nation's capital.
Source: