Are you looking for fun things to do in Washington D.C. for St. Patrick's Day?
Washington D.C. satisfies locals and tourists alike with its St. Patrick's Day activities that include but aren't limited to parades, Irish historical landmarks, and pub crawls. Diving into authentic Irish cuisine is seamless with the nation's capital's variety of restaurants—and you may even get to hear some live Irish music when you sit down to food or drink.
While some of Washington D.C.'s landmark St. Patrick's Day events have been canceled or contain COVID-19 restrictions to keep the public safe, regulations are looser than the previous two years, and nobody is stopping you from showing up with a festive St. Patrick's Day mask.
Let's explore what Washington D.C. offers during 2022's edition of St. Patrick's Day.
Is There a 2022 Washington DC St. Patrick's Day Parade?
You don't have to let COVID-19 get in your way of enjoying a quality St. Patrick's Day parade. While D.C. itself won't feature its famed St. Patrick's Day parades this year due to pandemic regulations, you can still attend Washington DC pub crawls.
Visit a Washington DC Irish Pub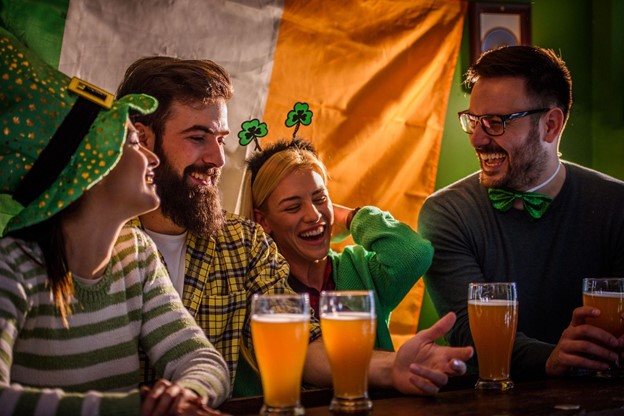 There are few higher-quality places to celebrate St. Patrick's Day in Washington D.C. than one of D.C.'s authentic Irish pubs. Kelly's Irish Times is our daytime pub recommendation due to its deep history, eclectic staff, quality food, and ideal-sized pints. While the pub was established in 1978, Kelly's Washington D.C. location near Union Station features historical Irish artifacts like early 20th century Dublin police patches and unopened beer bottles from the 19th century. Esquire Magazine listed Kelly's as one of America's top ten pubs in 2014.
Dubliner's on F Street gives Kelly's a run for its money with its warm, rich, and cozy interior design that's right next door. Stop by Dubliner's after 10:00 pm, and you'll be able to enjoy a special late-night menu.
St. Patrick Catholic Church
St. Patrick's Catholic Church is the oldest church in Washington D.C.. The church was built in 1794 to help accommodate Irish immigrants, constructing D.C.'s White House and Capitol buildings. Today, the current-style church you see on D.C.'s 10th Street began in 1872 and was dedicated in 1884.
Afternoon mass at St. Patrick's Catholic Church will occur at 12:10 pm on the 17th—but a simple walk by this church is worth your time due to the building's eye-catching Victorian Gothic Revival aesthetics. Learn more about St. Patrick Catholic Church in Washington DC.
Don't Miss Any of DC's St. Patrick's Day Action
Keener Management brings D.C. St. Patrick's Day festivities to your doorstep with a series of centrally located luxury properties that exist across the nation's capital's most desirable neighborhoods.
Kelly's and Dubliners celebrated pub fare is a quick metro ride or drive away when you're situated in Keener Management's Logan Circle, 14th Street, and Dupont Circle properties—and walking distance from these pubs sits St. Patrick's Catholic Church.
Settle for more quality ways to spend your St. Patrick's Day by contacting Keener Management at 202-249-0894 to discuss listings at any of our sixteen properties.