Springtime in Washington D.C. is almost here—and cherry blossoms aren't the only thing on their way. Our nation's capital plays host to several spring running and biking races that connect you to D.C.'s vibrant community, help raise money for worthy causes, and allow you to exercise in a stimulating environment.
Whether you're a competitive marathon runner or looking for some casual physical activity, you can find recommendations to suit your preferences with our list of 2022 springtime races in D.C. below.
Multiple Sclerosis Walk/Run
During March, you can join the effort to raise multiple sclerosis awareness with D.C.'s Multiple Sclerosis Virtual Walk/Run that features 1k, 5k, 10k, and half marathon registration opportunities. All proceeds from this event are sent to the Multiple Sclerosis Association of America, so your charity run or walk advances Multiple Sclerosis research and scientists' understanding of this central nervous system disease.
Register for D.C.'s Multiple Sclerosis Walk/Run online and complete your race anytime and anywhere during March to post your time and receive a finisher certificate.
World Down Syndrome and Parkinson's Disease Run/Walk
A virtual run/walk can be great for individuals who prefer to skip larger crowds and register their results when and where it's most convenient for them. Check out D.C.'s World Down Syndrome Run/Walk on March 21st, 2022, and the Parkinson's Disease Awareness Run/Walk on April 1st, 2022, for more virtual Washington D.C. races.
Westfields Triathlon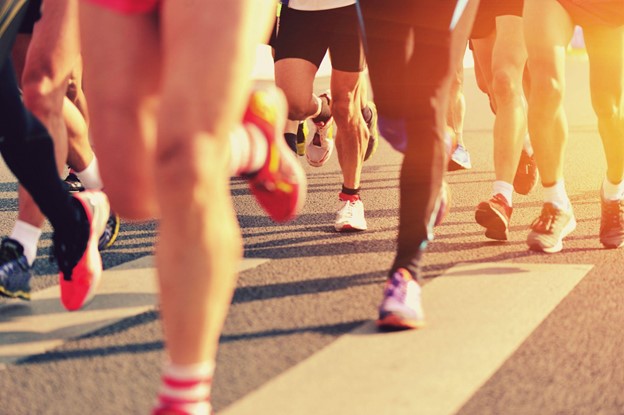 Triathlons are fun and rewarding with their combination of swimming, biking, and running. Tying these three events together during one outing may seem intimidating, but the Westfields Triathlon near D.C. in Chantilly, Virginia offers traditional triathlon engagement without high-level pressure.
If there's still a part of you hesitating to participate in the Westfields Triathlon, that's all the more reason to register, as a triathlon pushes you outside of your comfort zone so you can experience a healthy sense of achievement after completing the course.
Westfields Triathlon will take place at Cub Run Rec Center on April 24th, 2022. You can register for a Sprint Relay or Duathlon on this date if that's more your style.
TRANS VA 2022 (Spring Grand Depart)
Attention long-distance bikers: Washington D.C.'s Trans Virginia 2022 (Spring Grand Depart) event is launching its mass individual time trials on May 21st, 2022, at the Lincoln Memorial. The TransVirginia Bike Route offers 550 miles of unpaved rural trails that runs from D.C. to Damascus, Virginia.
You can compete to finish this route as fast as possible or use Trans Virginia 2022 (Spring Grand Depart) as an opportunity to tour extensive biking trails at your preferred pace.
Is there one or more 2022 D.C. springtime running and biking races that you'd like to participate in?
Go the Distance with Keener Management
Keener Management's centrally located luxury properties help you keep the best spring Washington D.C. bike race and running events within arm's reach.
Triathletes looking for a new challenge can live 25 minutes from Westfields' Triathlon 2022 location through our Arlington, VA property—The Taylor—while D.C. area running races can benefit from our Columbia Heights listings situated near scenic Piney Branch Park.
Contact Keener Management today at 202-249-0894 to set up tours of your favorite listings throughout our extensive selection of high-class D.C. properties.