When is the National Cherry Blossom Festival in DC? It's upon us right now, from March 20th to April 17th, 2022! So get ready to mark your calendars for all the cherry blossom action around DC.
The annual National Cherry Blossom Festival recognizes the Mayor of Tokyo's 1912 gift of 3,000 cherry blossoms to the nation's capital. Peak bloom is anticipated to arrive between March 22-March 25th, 2022, while traditional in-person, hybrid and virtual festival events return near numerous Keener Management property locations.
Let's explore what's on the table for this year's National Cherry Blossom Festival in DC.
Opening Ceremony [March 20th]
Kick off the 2022 National Cherry Blossom Festival anywhere on March 20th, with the event's opening ceremony available for streaming on the National Cherry Blossom Festival's YouTube Channel.
All free tickets have been distributed for the opening ceremony's Warner Theater date near our 14th Street and Logan Circle properties, but streamers won't have to miss out on the fantastic lineup of Japanese and American artists that include samurai sword performers KAMUI and acclaimed Washington DJs.
Blossom Kite Festival [March 26th-27th]
DC locals and visitors can take joy in the 2022 National Cherry Blossom Festival's decision to bring back the event's cornerstone Blossom Kite Festival.
The last weekend of March gives festival visitors a wide range of free opportunities to fly kites on Washington Monument grounds and numerous parks in and around the DC area.
Park locations include the Palisades Recreation Center and Playground near our Rosslyn property, The Taylor, and the Takoma Recreation Center, that's 10-15 minutes from our Columbia Heights location, The Park Monroe.
Discover all of the 2022 Blossom Kite Festival event times and locations on the National Cherry Blossom Festival website.
Festival Parade [April 9th]
DC's loosened COVID-19 restrictions mean the return of the National Cherry Blossom Festival Parade that stretches ten blocks through Constitution Avenue Northwest near our 14th Street, Logan Circle, and Dupont Circle properties.
This parade will feature spectacularly decorated floats, live music, colorful helium balloons, and more for free in specific areas or in ticketed grandstand seating.
Petal Porches [March 20th-April 17th]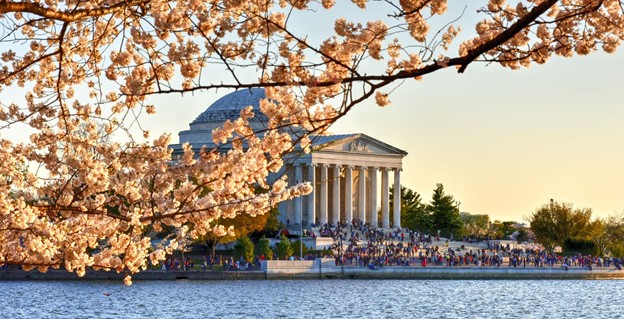 Petal Porches is an Amazon-sponsored National Cherry Blossom Festival event where DC locals are encouraged to decorate their properties to reflect the flowery spirit of the city's celebration.
DC residents will participate in neighborly Petal Porches contests and do-it-yourself challenges across the nation's capital.
You can find Petal Porch participants close to Keener Management properties through the event's live map.
Cherry Picks [March 20th-April 17th]
Revitalize your palate with the spring-time flavors of Cherry Picks.
Running the length of the National Cherry Blossom Festival with different themed weeks, Cherry Picks is a Restaurant Association of Metropolitan Washington co-run event where restaurant owners promote select spring menus.
The official Cherry Picks schedule includes:
Delightful Drinks (March 20th-27th)
Cherry Night (March 28th-April 3rd)
Fresh Foodie Week (April 4th-April 10th)
Decadent Dessert (April 11th-April 17th)
Keener Management's centrally located Dupont Circle, Logan Circle, and 14th Street properties are perfect for exploring DC spring cuisine. Cherry Picks locations will be available on the festival's website.
Petalpalooza [April 16th]
Find free 2022 National Cherry Blossom Festival fun for everyone at Petalpalooza that's hosted in the newly emerging Capitol Riverfront neighborhood.
Live outdoor stage music performances, interactive art installations, a beer garden, and much more will be part of Petalpalooza's April 16th happenings near our Rosslyn location, The Taylor.
Don't Miss Any National Cherry Blossom Festival 2022 Action
Keener Management puts you in the center of 2022 National Cherry Blossom Festival Washington DC offerings with affordable luxury properties like the M Street Towers in Logan Circle.
Reach out to Keener Management at 202-249-0894 to inquire about M Street Tower availability that places you 1.5 miles from 2022 Cherry Blossom highlights.