Are you looking for horse racing in Washington DC or close by? The DC area and slightly beyond is filled with prime opportunities to participate in the longstanding tradition of horse racing. Wagering is one of the biggest draws to horse racing, and spectators can place affordable bets or watch their friends bet to add to an event's excitement.
Let's explore where you can find high-quality horse racing near Washington DC.
Rosecroft Raceway – Fort Washington, MD
South of Washington DC and 45 minutes from our Rosslyn property lies Rosecroft Raceway—one of Maryland's most historic racing tracks. Rosecroft Raceway features harness and quarter-horse racing in both live and simulcast formats. Harness racing involves a horse pulling a driver in a lightweight cart, while quarter-horse racing focuses on short-distance straightaway speed.
Live race days at Rosecroft Raceway will occur every Wednesday and Sunday during March 2022.
Laurel Park – Laurel, MD
Laurel Park in Laurel, Maryland is a horseracing gem that sits between DC and Baltimore. Established in 1911, Laurel Park regularly features the nation's best horses and jockeys in live and simulcast events. Live Laurel Park Races tend to occur from Friday to Sunday, with simulcast events reserved for Monday through Thursday scheduling.
New to horse race betting? Learn how to wager on Laurel Park's website before visiting this state-of-the-art racing facility.
Pimlico – Baltimore, MD
Pimlico is the most royal member of the DMV racing family with its engrained status as the host of the middle jewel of the world-famous Triple Crown, The Preakness Stakes. A visit to Pimlico gives you a front-row seat to a storied racing legacy, as the track is America's second-oldest behind Saratoga.
Do you want to be part of racing history? Tickets for Preakness 147 at Pimlico are now available.
Charles Town Races – Charles Town, WV
Charles Town Races is situated slightly over an hour away from DC in Charles Town, West Virginia, but the drive is well worth it due to the site's multifaceted and beginner-friendly atmosphere.
Thoroughbred horse racing novices can refer to Charles Town Races' online resources for helpful betting guides and visit the location's casino afterward for some fun with slots and table games.
Dover Downs
Dover Downs in Dover, Delaware is an excellent place for a weekend racing getaway with its two-hour distance from Washington DC and on-site offerings that include live harness racing, a hotel, restaurants, a casino, and more.
This Delaware race institution can attract some of the best racing teams in the country due to its generous prize or "purse" distributions.
Colonial Downs
Colonial Downs is Virginia's number-one horse racing outlet with its standout features that include North America's widest grass racing surface and the United States' second-biggest dirt track.
The views at Colonial Downs are spectacular, and you can catch them every Monday through Wednesday from July 11th to September 7th for live racing.
Gold Cup at Great Meadow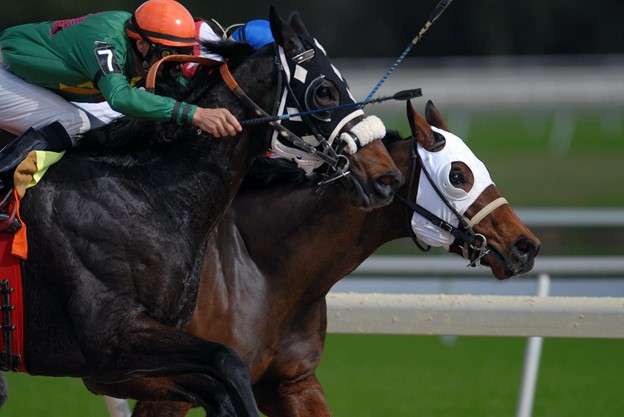 Great Meadow is a beautifully kept outdoor Virginia property dedicated to promoting the awareness and celebration of horse racing—and they'll be hosting their annual Gold Cup on Saturday, May 7th, 2022, just under an hour from DC.
The Virginia Gold Cup race event's ticket tier packages are:
North Side
Members Hill
South Side
The race event's website recommends that Washington DC visitors purchase a North Side ticket package to receive expansive views of the competition's final turn into the stretch toward the finish line. Big-screen TVs will help North Side Gold Cup attendees view initial portions of the race that are not in plain view.
Gold Cup race day activities will include hat contests, steeplechase obstacle horse racing, tailgate competitions, and more, while on-site terminals and the race's mobile app help spectators place their bets.
Hit the Ground Running with Washington DC Horse Racing
When considering a quick visit to Rosecroft Raceway or spending a weekend at Dover Downs, Keener Management has you covered with in-demand DC and DC-area properties that foster convenient access to top-tier horse racing locations.
Reach out to Keener Management at 202-249-0894 to see how we can help you realize your dream DC apartment.