Spring cleaning might strike you as a daunting chore, but giving your home a top-down cleaning when the seasons turn helps you enjoy every moment of the year. Cleaning and organizing not only declutters your space but protects woodwork and carpets from normal wear and tear and keeps your home beautiful.
Like most worthwhile projects, the hardest part of spring cleaning can be getting started. These home and apartment cleaning tips will help you spring ahead and get the job done in the most enjoyable and efficient way possible.
Pro Tips for Spring Cleaning
Planning makes tackling a big project easier, and spring cleaning your apartment or house is no exception.
Check your inventory of cleaning supplies, and plan to rent a carpet shampooer if you need one.
Get a crew together if possible and assign rooms to each helper.
Plan to tackle one room at a time if you are working by yourself.
Work from the top down in each room.
Clean ceiling fans, crown molding, and light fixtures first.

Clean wall art, shelves, cupboards, and mantle-pieces next.

Wipe down window sills and baseboards.

Clean floors by mopping or vacuuming.

Shampoo carpets or steam-clean hard floors as the last step.
Spring Cleaning Room by Room
In addition to the deep cleaning tasks for all spaces, each room in your home has its own cleaning and organizing tips for the season.
Living Room
This area is heavily used and might be filled with entertainment equipment. In the living room, remember to:
Vacuum under couch cushions and deodorize furniture fabrics.
Wash or steam-clean curtains or drapes and clean window blinds.
Wipe down TV screens and game consoles with electronic-safe solutions.
Shampoo the high traffic areas more than once if needed.
Kitchen
The kitchen is another high-traffic area and even though you probably clean and sanitize food prep areas often, a deep cleaning of all surfaces and spaces is a great seasonal strategy.
Clean appliances inside and out.
Reorganize your kitchen drawers and cupboards.
Discard or donate items you don't use.
Disinfect cupboards, drawers, and countertops.
Clean under the sink and tackle the "junk drawer."
Deodorize the garbage disposal.
Wash your kitchen garbage cans or replace them.
Wipe down kitchen chairs and barstools.
Bathrooms
While cleaning the bathroom might not be your favorite job, this essential room is usually small and designed to be easily cleaned and disinfected, so it's a rewarding project where you can really make things shine.
Turn on the bathroom fan while you work to dispel vapors from cleaning products.
Wash down walls that are part of the shower or tub surround and any that are tiled.
Disinfect the fixtures, sinks, cupboards, and the toilet and/or bidet.
Wash or replace shower curtains, bath mats, towels, and trash cans.
Bedrooms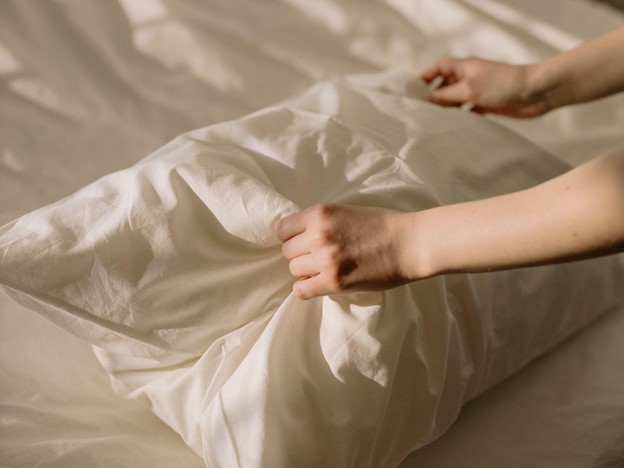 Bedrooms might be the easiest part of spring cleaning, but can present more organizational challenges. Bedrooms, extra rooms, and home offices tend to accumulate clutter. One of the best apartment organization hacks is to spend some time clearing and sorting as part of keeping a clean apartment.
Organize closets, wardrobes, and dressers before wiping them down.
Wash curtains or dust window blinds.
Clean under the bed and get rid of dust bunnies and items not used in a year.
Flip your mattress and rotate it so the head is now the foot if appropriate.
Wash or replace sheets, blankets, pillows, and comforters.
The Rewards of Spring Cleaning
If you are wondering how often to clean your apartment or schedule any needed repairs, doing a top to bottom cleaning each season will keep your apartment at its best and alert you to any problems developing. If you make your home with Keener Management, you can count on our 30 years of excellent service and fully renovated living spaces.
Across all our Washington DC locations, we maintain our affordable luxury apartments to the highest standards of quality. As the ultimate spring cleaning, consider relocating to a newly renovated studio or apartment maintained for your comfort and convenience. Contact Keener Management today to see available apartments and amenities currently available.