The COVID-19 pandemic has limited our options for activity outside the home, but you can still enjoy fine dining, as many area restaurants are open for pick-up and no-contact delivery to your Dupont Circle apartment or luxury residence in Logan Circle. At Keener Management, we have apartment properties close to many top restaurants. To make things easier during this time, we've made a list of the ones worth trying.
Astoria DC
Astoria DC is a Szechuan restaurant/cocktail bar that opened in 2019. Some of its most popular dishes include Chili Wontons, Dan Dan Noodles, and La Zi Chicken. Reviews also praise the Sweet and Sour Ribs, as well as the Water Boiled Beef and Triple Veggie Delight. The food is somewhat spicy and flavorful with a distinct touch of peppercorn. View Astoria DC website.
Fedwich
This pop-up restaurant specializes in sandwiches, cheesesteaks, and half-smokes, a combination of ground pork and stuffed beef that looks much like a hot dog. You can order via DoorDash or Postmates. Orders can be delivered or picked up at Kramerbooks in Dupont Circle. View Fedwich website.
Rosemarino D'Italia Dupont
A relatively new addition to the Dupont neighborhood known for its large seafood, pasta, and other traditional Italian dishes, its menu features a wide selection of appetizers, homemade pasta, and entrees that can be served with spaghetti or gnocchi pasta or vegetables. View Rosemarino D'Italia Dupont website.
The Dabney
Located in Blagden Alley, this hideaway serves American cuisine and has a wood-fired menu that changes daily. You'll find anything from specialty oysters to Eastern Shore-style chicken and dumplings, to grilled Maryland lobster. We have to assume great delicacies from the kitchen's hearth are still being churned out, while seasonal drinks are a bonus here. View The Dabney website.
We, The Pizza
A locally owned and operated establishment that opened in 2014, business highlights include locally sourced ingredients and popular dishes like the Buffalo Chicken Pie, Ultimate Cheese, and Capitol Supreme, as well as wild forest mushroom pizza. The menu has many options; you can order by the slice or pie or choose a different path with wings or salads. View We, The Pizza website.
CAVA
A Mediterranean restaurant in the Dupont Circle area that specializes in grain bowls, salads, and pitas, it also offers a variety of house-made juices. If you're looking for refreshing and healthy treats, this is the place to order from. CAVA also produces different types of vegetarian hummus and dips that are made daily. View CAVA website.
Sorellina
Order from a choice of Italian dinners (add-ons are available), sandwiches, and subs and from the all-day breakfast menu. Individual dinner items are available. The restaurant, which is built into the ground floor of a house, is currently taking orders from its no-contact menu online. View Sorellina website.
Explore Apartments in Dupont Circle and Logan Circle in Washington DC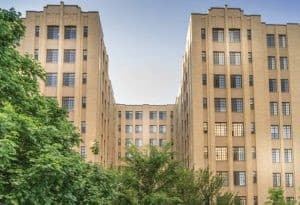 Keener Management has many properties and apartments close to Dupont Circle and Logan Circle, as well as many fine restaurants open for pick-up and delivery. For your safety, in light of COVID-19, we're using a virtual leasing model and allowing self-guided tours. Call 202-249-0894 for assistance and feel free to browse our available properties online.