With all of the cutting, prepping, cooking, and socializing that goes on in your kitchen, there's no doubt it's the busiest and probably the dirtiest of all the rooms in your apartment. That being said, along with your regular cleaning, it's a good idea to also give your kitchen the occasional deep clean. This checklist will help keep you on track.
Have Your Tools on Hand
The first step is to ensure you have all your kitchen cleaning supplies handy. A cleaning caddy with sponges and cleaners, your mop or kitchen sweeper, and some rags will be a big help. Music can help to make your kitchen deep clean a lot more fun, too.
Get Rid of Clutter
Next, you'll want to prepare your kitchen's surfaces for cleaning, This means clearing the mail off your kitchen table, getting the dishes out of the dishwasher, and moving stray items from the kitchen floor.
Dust and Wipe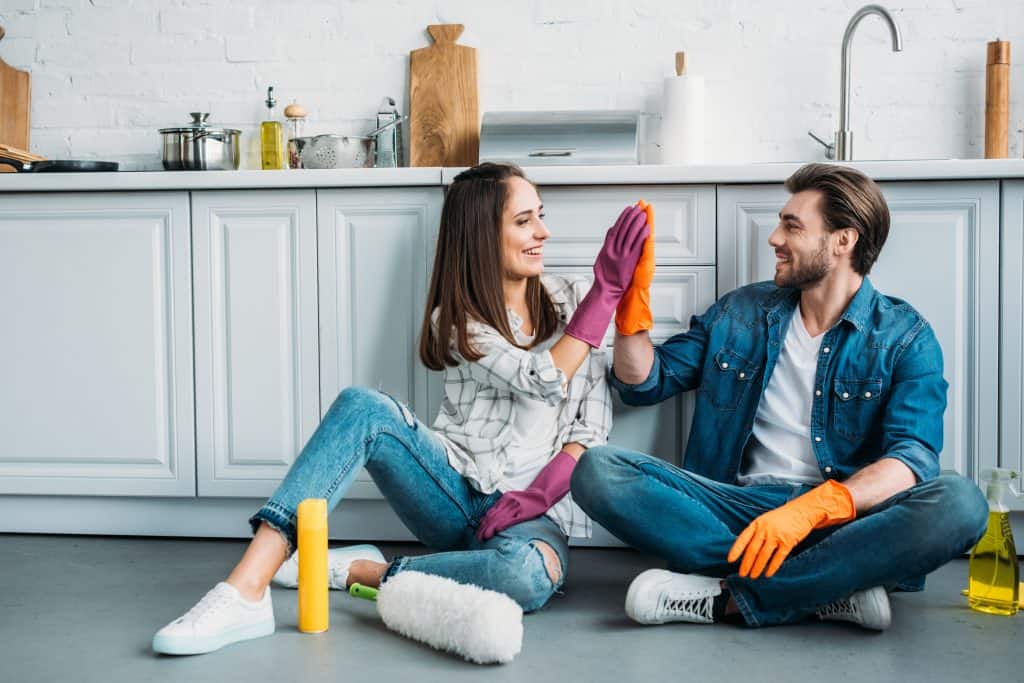 Where can you find dust in your kitchen? Above the cabinets, on fan blades and kitchen curtains … you get the idea. Walls, light switch plates, and air vents can all get covered in kitchen grime. Soak a rag in hot, soapy water, wring, and start wiping all of these areas down. You'll also want to give your counters and sinks a good scrubbing, too. Don't forget to add some warm water and baking soda to your garbage disposal to clean and freshen.
Oven and Refrigerator
Grab a can of cleaner and spray all around the inside of your oven. Leave the door open slightly, and ensure windows are open to vent the fumes. While the oven cleaner is working, you can tackle your refrigerator. Do this by discarding any spoiled food and empty containers you find in the fridge or freezer.
Place the rest of the food in a box or on the counter, and then remove and wash shelves and drawers. Give your oven cleaner more time by tackling the outside, ensuring any spill catchers, knobs, and the outside of the stove also get lots of attention. Then you can go back to the oven and wipe it clean.
Dishwasher and Cabinet Clean
Check your dishwasher's food trap and clean it out. Then add some baking soda or vinegar and run it empty so it gets a good clean. While it's running, you can remove the dishes from your cabinets and wipe those surfaces all down with a clean and soapy rag.
Drawers and Floors
Next, you'll want to empty and clean any flatware, kitchen linen, or junk drawers. Finally, sweep your kitchen floor and mop or scrub it clean.
Deep cleaning a kitchen is hard work, but the results will be totally worth it. If you're moving to DC and are looking for a new home, Keener Management apartments are a must-see. Our Washington, DC luxury apartments feature beautiful kitchens, amenities, and easy access to shopping, entertainment, and more. Busy? Our concierge can find and schedule viewings for you. It's that easy. Call us today at 202-299-9646 to explore your options.