Washington D.C.'s history is so rich that you can learn something new on just about every street corner. One of the most thrilling components of experiencing D.C.'s history is first-hand learning and observation opportunities. Our list of the four best Washington D.C. historical sites offers educational experiences that are fun and engaging. Let's dive in.
Museum of Modern American History
The National Museum of American History is incredibly immersive. You can easily spend a whole afternoon or evening at this location, as the museum features multiple levels of exhibits.
Eye-catching exhibit pieces and alluring video displays support this museum's ability to captivate its audience. Julia Child's kitchen is an example of one of the Museum of American History's riveting exhibits. Experience American history from a new perspective by touring this impressive museum's three captivating floors.
WWII Memorial
People from all over the globe visit D.C. to tour the city's National Mall. It's incredible how much you can see and learn when strolling the National Mall's grounds. One of the most impressive architectural achievements that the National Mall offers is the World War II Memorial.
A beautiful fountain area anchors the WWII Memorial. Around the fountain are vertical stone displays of every state and territory involved in WWII. Photography enthusiasts can take their shots to a new level by visiting the WWII Memorial at night. The immense amount of lighting that this war memorial provides makes finding the perfect shot an easy task.
D.C. shows its understanding that freedom isn't free with its stunning WWII Memorial.
Vietnam Veterans Memorial
The Vietnam Memorial is a striking tribute to those who lost their lives in one of America's most controversial wars. A long-stretching black wall contains a chronological list of all the American soldiers that lost their lives during this conflict. The extensive list of names is enough to generate plenty of appreciation for those that fought on America's behalf.
Mini United States flags and flower bouquets regularly line the bottom portion of the Vietnam Memorial wall. Certain portions of the Vietnam Memorial wall hold daytime reflections of iconic D.C. landmarks like the Washington Monument. The idea of remembrance runs deep at this thought-provoking D.C. war memorial.
Thomas Jefferson Memorial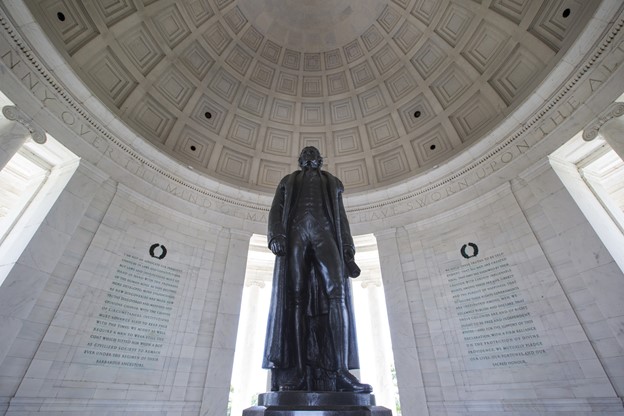 You'll find that the Thomas Jefferson Memorial holds one of D.C.'s best views. Visitors can appreciate the unique feel that this memorial's surrounding water generates. The Potomac River lies peacefully between the Thomas Jefferson Memorial and the Washington Monument. This property layout generates an unforgettable perspective.
The Thomas Jefferson Memorial is one of many D.C. locations that produce zen feelings. This memorial is extremely clean while offering plenty of space to explore the site's incredible architecture.
Experience D.C. from a top-tier perspective by visiting the Thomas Jefferson Memorial.
Experience DC's Rich History on a Daily Basis Through Keener Management
It's hard to experience the immense amount of history that D.C. holds in a day or even a week. The historic and compelling architectural offerings that D.C. contains are among the reasons people choose to live in the nation's capital.
Keener Management strives to offer affordable luxury properties in D.C.'s most attractive neighborhoods. Settling into one of our modern buildings like The Harper allows you to easily access all that 14th Street and the surrounding areas offer. We make scoring a stylish property in an exclusive neighborhood like Kalorama accessible by offering properties in The Park Crest Building.
Tour your dream D.C. property by contacting Keener Management today at 202-249-0894.