Everyone loves a good wedding. But the prospect of a year-long planning process can be daunting. You need to book the venue, hire the florist, engage the photographer, buy the dress, print the invitations, and so much more. Checking off that never-ending list can be stressful, if not maddening. To help you manage the task of planning a Washington DC wedding, we've put together this 12-month to-do list.
Whether you're tying the knot in an idyllic, rural setting or a downtown hotel; whether you're honeymooning in Florence or staying put in your luxury apartments in DC, this handy wedding planning calendar will help you figure out what to do and when to do it.
10 to 12 Months Before the Wedding Day
Decide on the type of wedding. Do you want an outdoor wedding set in the countryside? An indoor wedding in a luxurious hotel? Have you always dreamed of a lavish wedding full of glitz and glamor, or would you prefer a simple rustic affair? What type of wedding you have will determine almost everything else, from the venue and the music to the invitations and the décor. In other words, take your time and get this right.
Set the date. Give yourself a good year to plan for the big day. First, choose the season. Do you want a spring wedding, a summer wedding, or maybe an autumn wedding? How about a "winter wonderland" themed wedding? Once you settle on a month, zero in on a specific day/weekend. And, remember: Weekdays are far less expensive than weekends, although more guests will likely be able to RSVP "yes" if you plan on a Saturday wedding.
Narrow down the guest list. If you already know your venue, find out how many people the place can accommodate. That will tell you how many guests you can invite. The budget will also be a limiting factor. Start with everyone, then get to work and pare down your list. You could also do it in the opposite order: Finalize your guest list first, then find a venue that can hold that number of people.
Hire a wedding planner. Start by browsing the listings over at The Knot, which is still one of the best resources for finding local wedding planners in the DC area. You could also ask your married friends who they used and what their experience was like.
Find and book the venue(s). Will you hold the ceremony and reception in the same location or will you split them up? Either way, there are plenty of great wedding spots in and around Washington DC. Most are in Virginia, where rolling hills and quaint manors make great wedding backdrops, but there are also plenty of great places in and around the city. Check out The Knot for more Washington DC wedding venue ideas.
Six to Eight Months
Book the engagement shoot. Some couples use engagement pictures on their save the date cards or even on their wedding invitations. Either way, it's good to get the pre-wedding pics out of the way early.
Save the date. As a courtesy, you'll want to send your guests save-the-date cards, so they can pencil the date into their schedules. Start with the out-of-town guests. That gives them plenty of time to book flights and hotels. Notify everyone as early as possible, particularly during peak wedding season when most people have multiple weddings to attend.
Select your bridal party. The bridesmaids and groomsmen may end up being your biggest helpers when it comes to wedding planning, so it's good to recruit them early. It also gives them plenty of time to prepare for their roles.
Nab that wedding gown. You probably already have a Pinterest board full of ideas (if you don't, you should start one pronto). Once you have a general sense of what you want, go to a store with a bridesmaid or family member, try on those gowns, find the perfect match, and place your order.
Engage the talent. That includes the videographer, the florist, the caterer, and the musicians or DJ. Surprise, surprise—you can also find Washington DC wedding photographers at The Knot. It's also a good idea to ask around and find out which ones your friends recommend.
Open a registry. If you know what you want, and the thought of what you'd like to request as gifts makes you go cross-eyed, you can open a registry the moment you get engaged. If you're not sure what to put on the list, take some time to figure out what you need/want. No matter what, your registry should be ready to go at least six months before the big day. That will give guests plenty of time to shop at their leisure.
Contact vendors/rental companies. You'll probably need chairs, tables, décor, and maybe even an event tent. Start reaching out to rental companies now. They might even be able to help you with the planning/setup.
Select the officiant. Who will preside over your wedding? Time to book them.
Three to Six Months
Order the invitations/stationery. That gives you some extra time to make sure everything looks good, just in case you have to re-order.
Book the hotel rooms. That includes lodging for the wedding day/night as well as the honeymoon hotel room. If you're lucky enough to live in luxury apartments in DC, you can skip the local hotel and stay at home before heading off for your honeymoon.
Secure your transportation. You'll need to get to the wedding, to the reception if it's in a different location, and to the honeymoon destination. From the limos to the flights, get everything in order months ahead of time. You can always make last-minute adjustments if need be.
Decide on wedding favors. Will you give your guests personalized candles or donate to a charity? If you want to create personalized items, you'll need to order them in advance.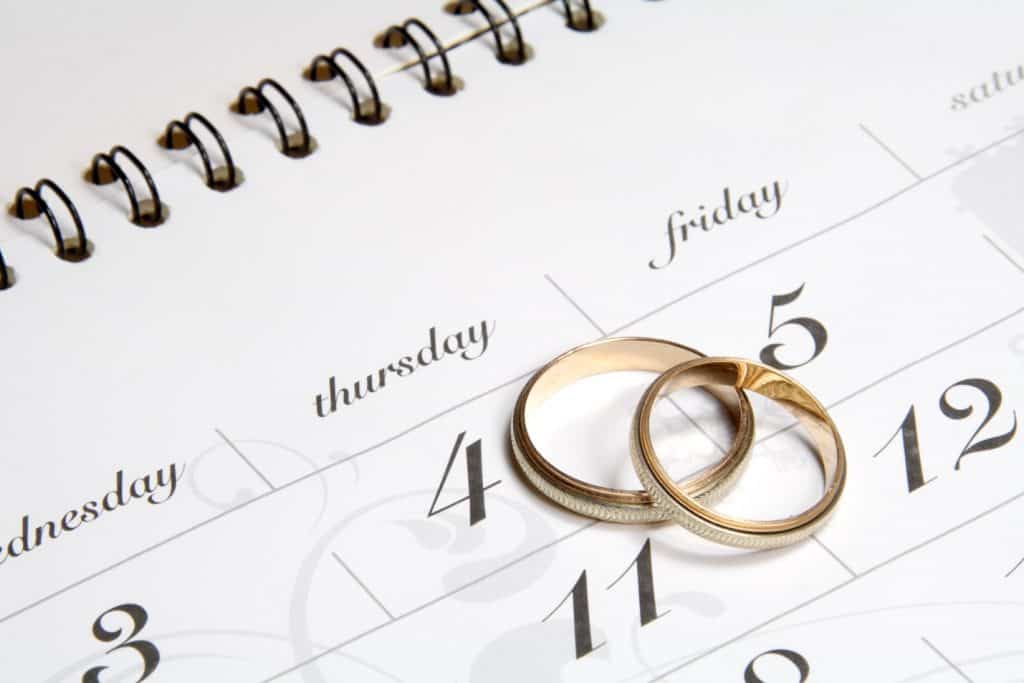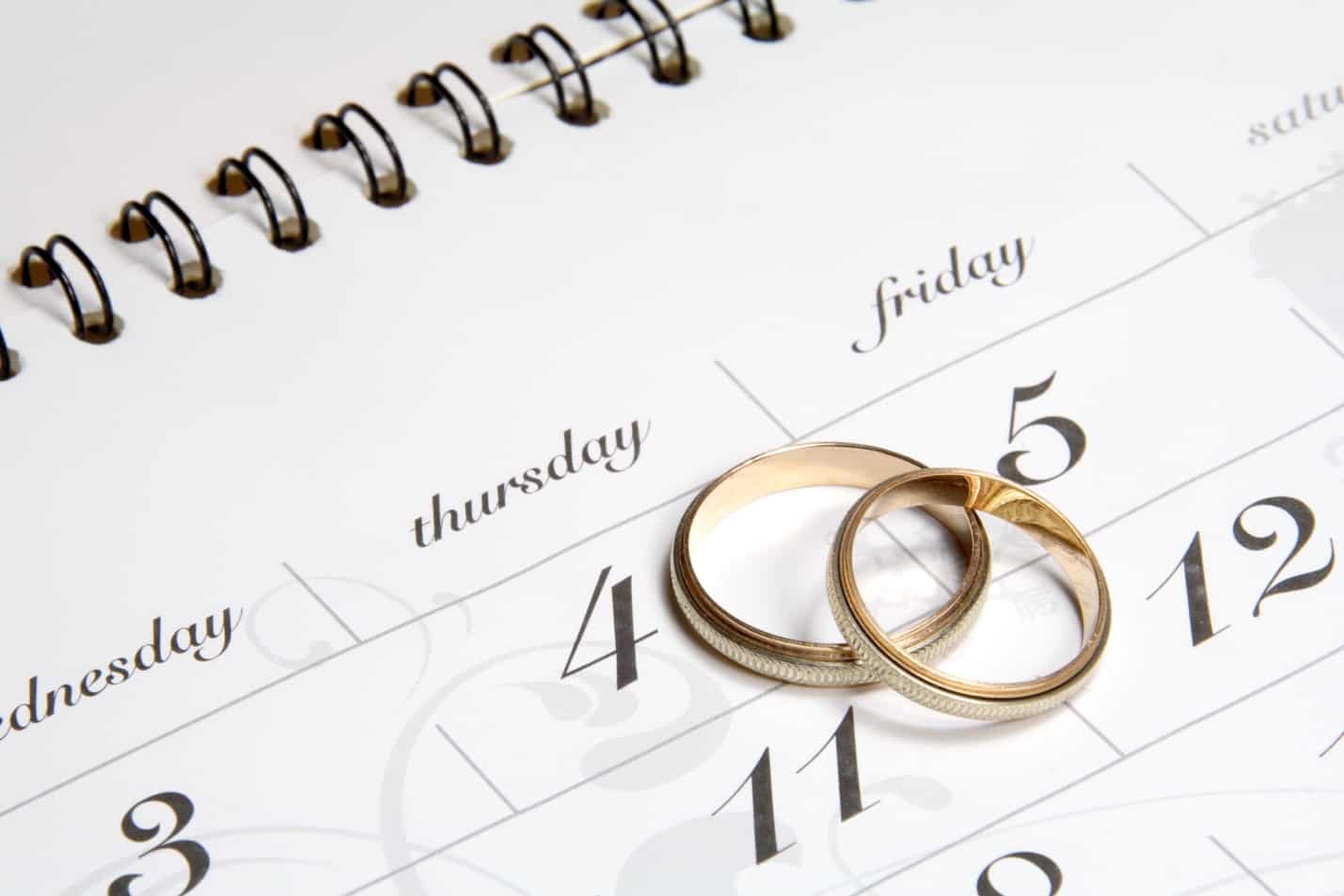 One Month to Two Months
Send the invitations. Send the formal invitations six to eight weeks ahead of your wedding day. Hopefully, all of your out-of-town guests have already made their plans, but, if they haven't, this will give them plenty of time to catch up. On the invitations, let your guests know that they must RSVP at least two to three weeks before the date. If you have a wedding website, put the web address on your invitations.
Have your gown You've already chosen the dress. Now it's time to have it fitted. Make sure everything looks perfect, and let the seamstress know about any alterations you want to be made.
Check in with all vendors/talent. Make sure everyone knows what they're doing and everything is on schedule. Check in with the event rental company, the caterer, the photographer/videographer, the musicians/DJ, and anyone else who will help to make the big day a success.
Finalize the RSVP list and seating chart. The last RSVPs should have poured in by now. Once you know who is and who isn't coming, you can work out who goes where.
Get a marriage license. Check your state rules on marriage licenses. In most states, you have to get your license at least 72 hours in advance, but no more than 30 or 60 days before the wedding day.
One Week
Have your gown fitted one last Bring a maid of honor along and give the dress one last look. Figure out all the straps, buttons, zippers, etc. Ask about ironing, bustling, and other care tips.
Give the final guest count to the caterer. By now, everyone should have RSVPed. Tell the caterer how many guests are coming so they can prepare food for the right number of people.
Finalize all lodging/transportation arrangements. Double check the hotels, limos, taxis, and flights, and make any final adjustments to your travel plans.
Rehearse the ceremony and the dinner. Time to practice walking down the aisle, making those speeches, and toasting to the future.
Put together an emergency kit for you and the bridesmaids. Include plenty of hairpins and safety pins. Bring along some aspirin, feminine hygiene products, floss, hand sanitizer, deodorant, mints, and any other personal hygiene, medical, and beauty items you, or your wedding party, may possibly need in a pinch.
Go over any last-minute details. Check in with the wedding planner, the wedding party, your family, and your significant other to make sure everything and everyone is ready for the big day.
What if You Don't Have 12 Months?
What if your wedding is a more hurried affair? What if you don't have a full year to plan everything out? It is possible to plan a wedding six or even three months in advance if you're planning on eloping, but it takes a little more ingenuity and hard work. Moving the timeline up by six months also raises the stress levels, but, if you're really in a hurry, that shouldn't stop you.
There's nothing easy about planning a wedding, but the ordeal doesn't need to ruin your life, either. In fact, you can do most of it from the comfort of your apartments in Washington DC, and you can make your life easier by using this guide as a template for your own personalized wedding planning calendar.