Whether you're making your first move or have experienced the process before, the stress of moving is not a secret. It often does not go smoothly. One option to consider can help: fully furnished apartments. At Keener Management, we offer furnished apartments at The Drake in Dupont Circle.
What Is a Furnished Apartment?
Furnished apartments for rent have many amenities for you to live comfortably. The furnishings included can range from kitchen appliances to furniture, including couches, dining tables, beds, and dressers. Some apartments may be completely furnished with a wide range of décor, such as lamps, bookshelves, chairs, shower curtains, and even utensils and dishware. A fully furnished apartment is ready to be lived in and demands less in terms of getting settled.
This sounds great, right? However, there are pros and cons of furnished apartments, which will be discussed below.
Pros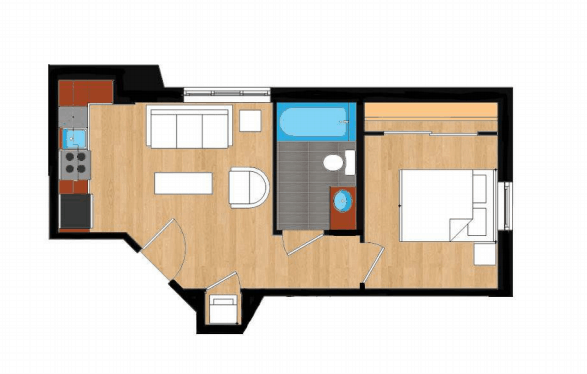 It's easier to move: Since all the furnishings you need are there, you don't have to rely on a moving company to haul your existing items. There are fewer boxes to deal with as well. You can avoid exhaustion and injuries, so moving day can be much less stressful and the moving process is less time-consuming.
Fewer upfront expenses: You don't have to purchase all-new kitchen, living room, or bedroom furniture for an empty apartment. If you're having a moving company bring your belongings from an old apartment, whether from a few blocks away or across the country, their fees can be quite high.
Great for short-term rental: If you're a student or relocating for work, then you might not be ready for a long-term commitment. Furnished apartments are often listed as short-term rentals that suit people in these situations. There's also much less effort if you're just starting out; plus, you can still decorate the apartment as you please.
Cons
Higher rent/security deposit: You'll most likely pay a higher rent for a furnished apartment. The landlord is responsible for each item, so the security deposit is often higher as well. Compare the increased upfront and monthly expenses to what it would cost to furnish the apartment on your own. The higher rent makes less sense if you already own furniture.
The furniture may not be your style: In addition to concern over damaging someone else's furniture, and the overall quality of the items, the furniture may not be to your taste. There are usually few options to consider when looking for a fully furnished apartment. You might have to get rid of old furniture if it's not allowed or there is no room for it.
Ancillary costs: Even if the landlord lets you bring some stuff along, they may charge removal and storage fees for various items. Repainting or re-carpeting often requires moving furniture out temporarily, the expenses of that may be factored into your rental agreement. Landlords/property managers often pass such costs on to renters, as acquiring, caring for, and moving furniture comes at a price. At Keener Management, we do not charge any ancillary costs and we don't require security deposits.
Find Luxury Furnished Apartments in Washington, D.C.
Our Dupont Circle, 14th Street, Logan Circle, Kalorama, Woodley Park, and Columbia Heights apartments offer flexible options for our clients. Our furnished apartment rentals include modern décor, beautiful wall art, comfortable sofas, kitchen appliances including silverware, plates, and other cooking utensils. Our apartment units are a great value and comes with brand new furniture. Keener Management currently manages 16 properties and over 2,000 apartments in Washington, D.C. Call 202-249-0894 to learn about availability or schedule a virtual tour.