The ongoing COVID-19 pandemic is making dining out in Washington, D.C. less likely during Christmas, but that doesn't mean you can't still enjoy fine cuisine. Many restaurants are offering to-go service, so you can have a holiday feast at your Washington DC apartment.
If you are planning Christmas dinner take out, here are four restaurants in Washington, D.C. open on Christmas Day:
Teddy & The Bully Bar
Operated by the owners of LINCOLN Restaurant and Declaration Restaurant, Teddy & The Bully Bar has taken a powerful stance on customer safety. It has gone so far as to draft a Customer Safety Constitution. A Christmas menu is out with pickup available on December 24th and 25th, featuring first-course choices of a Pear Salad or Yukon Gold Potato & Leek Soup; turkey, ham, or NY strip steak carvings; a choice of sides; and desserts. Packages from one to ten people are available. Learn more at Teddy & The Bully Bar.
Brasserie Liberté
A destination for modern French and American cuisines located in nearby Georgetown, its Christmas menu, an extension of the restaurant's order pickup and delivery services, offers a comprehensive choice of hors d'oeuvres, including French onion soup, escargot, and a selection of salads.
Entrees include Beef Bourguignon, Steak Frites, Seared Salmon, and Fettuccini Bolognese. Numerous desserts are offered for take-out as well. Learn more about Brasserie Liberté or download the menu online.
Sequoia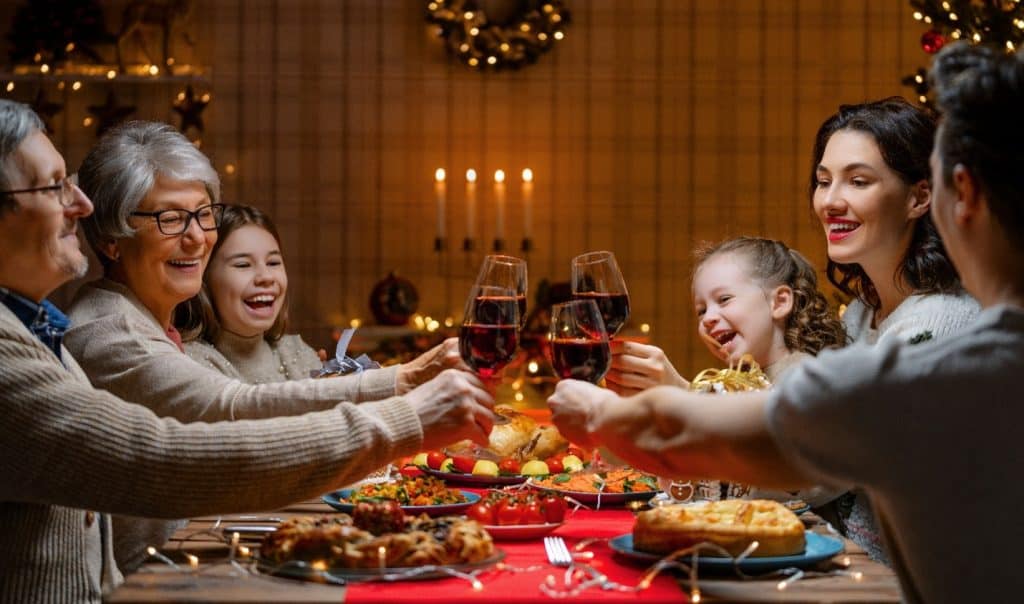 Sequoia offers spectacular views of the Potomac River. Although you might miss such ambiance this Christmas, you can still enjoy great delicacies from home. The establishment is offering four different holiday menus.
Christmas Eve Specials and a Christmas Day Brunch are available in-house, but you can set up Christmas at Home with packages that include starters, sides, and mains like Brown Butter Roasted Whole Turkey, Rosemary Sea Salt Crusted Prime Rib, and Baked Honey Spiral Ham. A Christmas Brunch at Home menu has been posted as well. Visit Sequoia online.
Belga Cafe
Belga Café, a destination for Belgian Cuisine, is the creation of Chef Bart Vandaele, a contestant on season 10 of Bravo's "Top Chef." Although a seated Christmas Eve dinner menu is available, you can choose from dinner options and Christmas Wine Boxes on the Christmas Dinner @ Home menu. Dinners for two, four, and six are listed.
Your choices include packages with Chesapeake smokehouse salmon, Maine lobster salad, and grilled scallop soup, plus a choice of entrées. Wines from France and from around the world are also available. Learn more about Belga Café.
Contact Keener Management
Take-out in Washington, D.C. can be enjoyed at our apartments in Kalorama and other neighborhoods throughout the city. Whether you're looking to rent an apartment in The Park Crest or a property in Dupont Circle, Logan Circle, or Woodley Park, check availability online to find luxury apartments on our listings. Call 202-249-0894 to learn more.