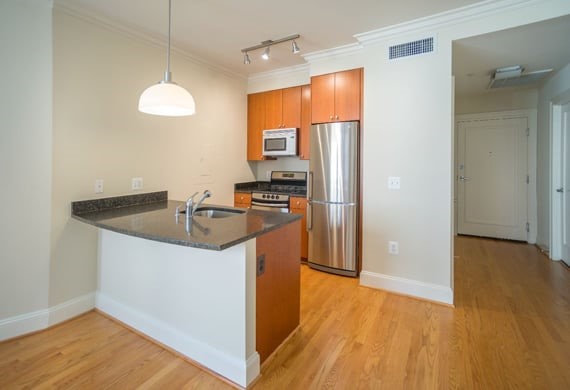 In the heart of Washington, DC, there lies a gem among apartment complexes, offering an unparalleled blend of luxury and location. Welcome to The Asher, the pinnacle of Dupont Circle apartments. If you're seeking the best apartment complexes in Washington, DC, The Asher not only stands out, but it also redefines the essence of city living.
A Canvas of Refinement
The Asher's architecture is seamlessly intertwined with the serene backdrop of Dupont Circle. With its majestic red oak hardwood floors, custom-made cherry cabinetry, and granite-topped breakfast bars, every corner breathes sophistication. The elegant 9-foot ceilings adorned with crown molding and the aesthetic of its interiors are reminiscent of a meticulously crafted masterpiece.
The kitchens are nothing short of gourmet havens—equipped with stainless steel appliances, deep stainless steel sinks, and a dishwasher. The honed granite countertops ensure you're cooking in style, while the built-in microwave ensures efficiency.
Moving on to the bathrooms, each is furnished with a porcelain tile floor and a custom-made cherry vanity, crowned with a honed limestone top. The undermount porcelain sinks elevate the overall look, offering both functionality and form. The living and bedroom areas boast premium adjustable closet systems, ensuring that your belongings have a worthy abode.
Green Living Amidst Urban Luxury
At The Asher, luxury doesn't come at the cost of the environment. The green features include energy-efficient light bulbs, high-efficiency heating and air conditioning, and low-VOC paint. The use of recycled building materials during its construction underlines The Asher's commitment to sustainability.
Amenities That Redefine Living
The rooftop terrace is a resident's retreat, offering panoramic views of Washington's iconic monuments. For those who cycle, a dedicated bicycle storage room ensures safety for your two-wheelers. An added perk? Additional assigned storage space for all those extras you might have.
Dupont Circle – A Melting Pot of Experiences
Living in The Asher gives you direct access to all that Dupont Circle has to offer. This vibrant neighborhood is a blend of history, culture, and modernity. Just blocks away from The Asher are some of the city's most celebrated eateries and watering holes.
For those with a sweet tooth, Dolcezza serves daily made, artisanal gelato and expertly crafted coffee. If sushi is your calling, dive into the authentic flavors of Sushi Ogawa, where traditional edomae sushi awaits. And for crafted Middle Eastern cocktails, head to The Green Zone, the perfect spot to unwind after a bustling day.
Experience the Keener Management Difference
When searching for apartments in Dupont Circle, The Asher inevitably stands out, echoing the sentiment of luxury, comfort, and environmental responsibility. If you're aiming for a living experience that beautifully marries urban luxury with a sense of home, then The Asher is your destination. Browse through our listings today and take the first step towards embracing the best of Washington, DC Dupont Circle living.
Explore a realm where luxury meets convenience. See our availability today.