There's no shortage of famous monuments and incredible attractions in Washington, DC. Whether you want a slice of America's history, some beautiful scenery, or some monuments incredibly relevant even today, then there's something to enjoy.
The churches in Washington, DC are of particular interest. Each of them are steeped in a rich story, with breathtaking architecture and pockets of active worship for those who partake.
If you're looking for the best churches in Washington, DC to visit, whether you're a new resident or just visiting, then here are the ones to look into.
The Basilica of the National Shrine of the Immaculate Conception
A little east of The Park Monroe Apartments, close to Columbia Heights, is the Basilica of the National Shrine of the Immaculate Conception. It's the biggest Roman Catholic church in Washington, DC, certainly, but not just that—it's actually the largest in the United States.
It has daily mass and offers tours so you can witness the sacred art and hear all about the shrine's history from an expert. The great shrine was conceived in the mid-nineteenth century, making it extremely old and representative of many different people from different cultures and backgrounds.
The church even has musical performances, with the aim of reaching hearts and minds through the power of song.
If you're wondering whether to go and visit this amazing structure, you can even take a virtual tour online first to get a sense of what you'll see and perhaps learn about some of its history beforehand.
Washington National Cathedral
A short walk from Woodley Park and The Delano Apartments is the Cathedral Church of Saint Peter and Saint Paul in the City and Diocese of Washington, also called the Washington National Cathedral for short.
It considers itself a house of prayer for everyone. No matter what background you come from or what religion you count yourself part of, you can come together with other Americans here. It prides itself on its recognition of diversity, believing there's beauty to be found in all cultures.
The world's sixth-largest cathedral offers self-guided tours, virtual tours, and even guided tours if you'd like to hear about its history and art from someone who knows all about it. It's a good idea to book in-person tours in advance, as this cathedral does get very busy.
Second Baptist Church of Washington
The Second Baptist Church of Washington is the second oldest African American baptist church in Washington, DC. It's a national historic landmark with absolutely stunning architecture, located near the M Street Tower Apartments and Sutton Plaza Apartments.
It was established in 1848 and still holds true to those original values that made the church such a success, while growing along with the world's progression. Its mission statement is: "The purpose of the Second Baptist Church is to give visible form to faith and fellowship to which God has called His people."
It's a much smaller church than the likes of the Washington National Cathedral or the Basilica of the National Shrine of the Immaculate Conception, but a worthwhile one to visit for some worship with other like-minded people who will welcome you through its doors.
Technicolor Church
For something a little different, check out the Technicolor Church in the south of the city. It's not an active church where you can go to participate in worship, but an abandoned one.
Alex Brewer, an artist, turned this church into his own personal art project. The building has been livened up with bright colors and patterns, and the interior has become a gallery too, which people can come and browse.
If you're more interested in the architecture of churches than practicing religion, you will not want to miss this. In that sense, this one of the most famous churches in Washington, DC.
Washington, DC Is Home to Some Amazing Churches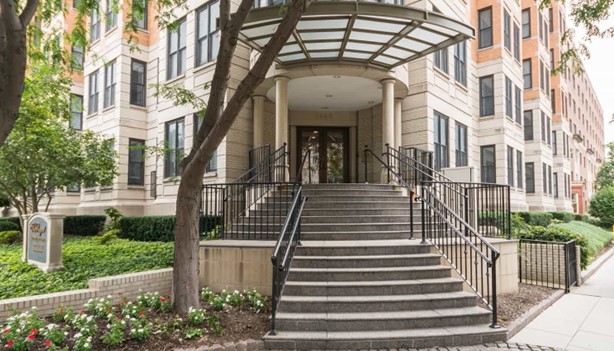 Whether you've just moved to DC, are visiting, or are a long-term resident looking to finally get out and explore some more, you should make time for the churches and cathedrals. Those looking for active worship and those more interested in the architecture alike will be impressed by the structures and the history they're steeped in.
You can also check out St. Patrick Catholic Church, St. John's Church, and the Cathedral of St. Matthew the Apostle for some more awe-inspiring history and architecture.
If you're moving here and want to be in walking distance of one of these amazing places, consider staying in one of Keener Management's properties. One of our apartment buildings around this city is sure to suit you well, and we'd be happy to help you find your new home!