Dupont Circle is only growing in popularity, and it's easy to see why. With beautiful sights all around this neighborhood, amazing locations for foodies, and a rich community feel, it truly has it all—and DC residents and newcomers alike are choosing to stay here.
If you're considering moving to this great place, already have, or are just in the neighborhood, there are the best date spots in Dupont Circle.
1. Enjoy an Indian Meal at The Bombay Club
With an old-fashioned dining room, spacious patio, and live piano, there's no restaurant with a more romantic feel than The Bombay Club. It's one of the best restaurants in Dupont Circle not just for the atmosphere but for the food too. It serves up some of the best Indian cuisine in the city, with influences from all around the country it's inspired by.
The dress code for this restaurant is smart casual, with requests to avoid sportswear, sandals, and shorts.
2. Tapas Lovers Will Adore Boqueria
For something a little lighter in terms of Dupont Circle restaurants, try Boqueria. It's a tapas place where you can get some sharing plates and some drinks and enjoy each other's company. They even have a happy hour until 6 p.m.
This place can get busy, so, where possible, it's best to reserve ahead of time—especially on a weekend night!
3. Swinger's Crazy Golf for a Wild Time
Although Swinger's Crazy Golf sounds wild, it's really just a quirky British bar that serves a selection of street food, drinks, and—of course—has a crazy golf course.
It's one of the best date places in Dupont Circle because it eliminates any awkwardness by giving you an activity to do while you sample some delicious food and cocktails. It also has a live DJ some nights.
4. Kramers for Something Different
For something truly unique, check out Kramers. This establishment is a combination of a bar, restaurant, and bookshop, so you can peruse shelves and discuss your favorite literature while you eat and drink.
It's been open since 1976 and prides itself on appealing to all, providing social experiences, comedy nights, trivia, and more. Make sure you check out its schedule of events beforehand!
5. Doyle, for an Intimate Date
This cocktail bar is styled more like a lounge, and it makes a great date spot not just because of the drinks, but because of the amazing view it offers of Dupont Circle from the patio. Whether you've just moved to the neighborhood and want to drink it all in with your date or you just never get tired of it (who would?), Doyle is a classy spot.
6. Jane Jane, a Classic Cocktail Bar
For those who know their cocktails well, you won't find a more extensive menu than this intimate date spot at Jane Jane.
Their menu is huge and organized by liquor. Since it's only recently opened, you can be one of the first to check out what it has to offer. If you want to spend hours talking and really get to know your date, this is the place.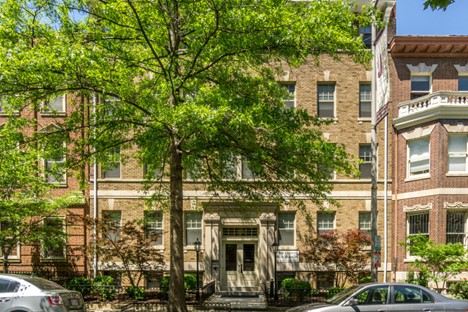 Dupont Circle Is a Great Neighborhood for Romantics
Whether you're moving to the area or looking to venture outside of your own neighborhood to find a great date spot, you can't go wrong with Dupont Circle. From quirky bookstores turned bars and crazy mini golf, to more intimate cocktail settings, there's something for everyone here.
If you're considering moving to the area, why not check out our apartment availability at Keener Management? We're proud to own multiple luxury properties in Dupont Circle just a stone's throw from some of these amazing date spots.