If you're moving to a new city, then there's one thing to consider: the food. The amount of good food around your new home can make or break its location and, for foodies, this becomes even more important.
Fortunately, Washington DC has no shortage of mouth-watering dishes, but some neighborhoods are more blessed than others. Become a DC foodie and know exactly where to go for the best cuisine; better still, make sure your apartment is a stone's throw from it.
Why DC Is the Best Place for Foodies
Although it could be argued that every city in the USA has its fair share of delicious gems, there's something about Washington DC that stands out as special. Being a foodie in Washington DC is an amazing experience simply because of the wealth of various cuisines available here.
Whether you're looking for your classic American burger, some spicy Thai food, flavorful Indian, or hearty Mexican—it doesn't matter. DC has it all, with various cultures and cuisines dotted throughout the city so you never have to go too far to find your favorite.
DC Neighborhoods for Foodies
It's undeniable that some DC neighborhoods are richer in flavor than others. Here are the best neighborhoods in Washington DC if you plan to live there as a foodie.
Logan Circle
One of the best places to live in DC hands down is Logan Circle, and the food there makes it all the better. Compass Rose provides tasty small plates from all around the world, from Spain to Malaysia, and offers a stylish patio to eat it on as you take in your new city. Bar Pilar is another restaurant that strives to provide food from different cultures, from Chinese noodles to some mind-blowing tacos.
Within walking distance of these restaurants, you'll find luxury apartments by Keener Management such as The Gatsby and Sutton Plaza. With plenty of space, various amenities, and amazing restaurants a short walk from your front door, you'll never want to leave the neighborhood.
Columbia Heights
Some more of the best places to eat in DC can be found in Columbia Heights. Michelin star Asian restaurant Thip Khao can be found here, offering Chilean sea bass, crispy pig ears, and more exotic dishes. Letena is an Ethiopian restaurant people rave about just a short distance from Thip Khao, or for something more classic American, check out Call Your Mother deli for lunch.
We're proud to have The Park Monroe situated in the middle of Columbia Heights, where Michelin star restaurants and casual American dining are both within easy reach, putting you in the middle of the best restaurants in Columbia Heights. The metro station is also a short walk away, which opens up the whole of DC's food ventures to you.
Adams Morgan
For Filipino options and classic Italian pasta and pizza, check out the Adams Morgan neighborhood. The Game Sports Pub/Tiki is a sports bar, but all of the bar fare is inspired by Filipino food. Shibuya Eatery also serves great Japanese takeout—and, for some of the best pizza in town, you can't miss Duccini's.
If you're a House of Cards fan, you should also check out The Federalist Pig, featured by name in season six!
The Asher and The Park Crest are located right on the edge of Adams Morgan and in the heart of the city.
Eat and Stay with Keener Management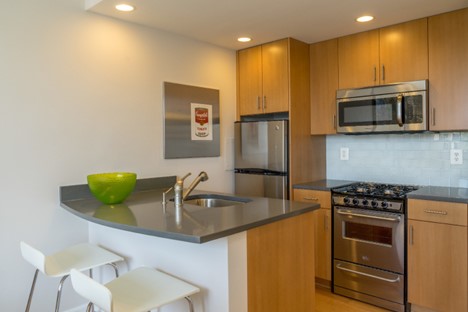 With our luxury apartments in carefully chosen locations within DC, you can be in the middle of all of the food you love and have convenient access to metro stations to take you into the rest of the city.
If you're interested in becoming a DC foodie in one of these neighborhoods, check out our available apartments and let us help you make this new city your home.