At Keener Management, we offer many luxury properties in the Washington, DC area. If you're considering a move here or live in one of our buildings, you may be curious about the best restaurants with outdoor seating. If so, there are several options where you can dine out safely during the COVID-19 pandemic. The following restaurants are conveniently close to our apartments for rent in Dupont Circle, as well as Logan Circle, 14th Street, and Kalorama.
Astoria DC
Patio seating is available. Reservations were previously required, but the restaurant is now open for walk-in dining on a first-come, first-serve basis. Take-out and delivery services are still offered. Serving Sichuan food and cocktails, the restaurant is known for its noodle dishes, soups, and entrees such as Water Boiled Beef, Basil Eggplant, and Veggie Triple Delight. You can also get fried rice with crab, pork, or vegetables. View Astoria DC's website.
Malbec Restaurant
Open for patio and carry-out service, Malbec Restaurant is an Argentine steak house that serves 100% grass-fed Argentine beef. Traditional lunches and dinners are served, as are regional wines. Parking is limited, but the restaurant will deduct your taxi fare, up to $10, from the dinner check if you have your receipt. View Malbec Restaurant's website.
Agora
Agora offers outdoor seating on its patio as well as indoor seating options. The restaurant has a strict mask requirement for its staff and guests. It specializes in Mediterranean tapas-style dishes from Greece, Turkey, and Lebanon. Mediterranean wines and beers, house cocktails, and Lion's Milk—made with the Turkish spirit Raki—are served. View Agora's website.
Floriana
Floriana is an Italian bistro and wine bar that made the Top 10 Most Romantic Restaurants in D.C. in 2015. Located at 17th and Q Streets, it is known for its popular gnocchi specialties, seafood dishes, and meat entrees. All ingredients are locally sourced and the pasta is hand made. The owners have gone to great lengths to make Floriana all about friends, family, and community. View Floriana's website.
Hank's Oyster Bar – Dupont Circle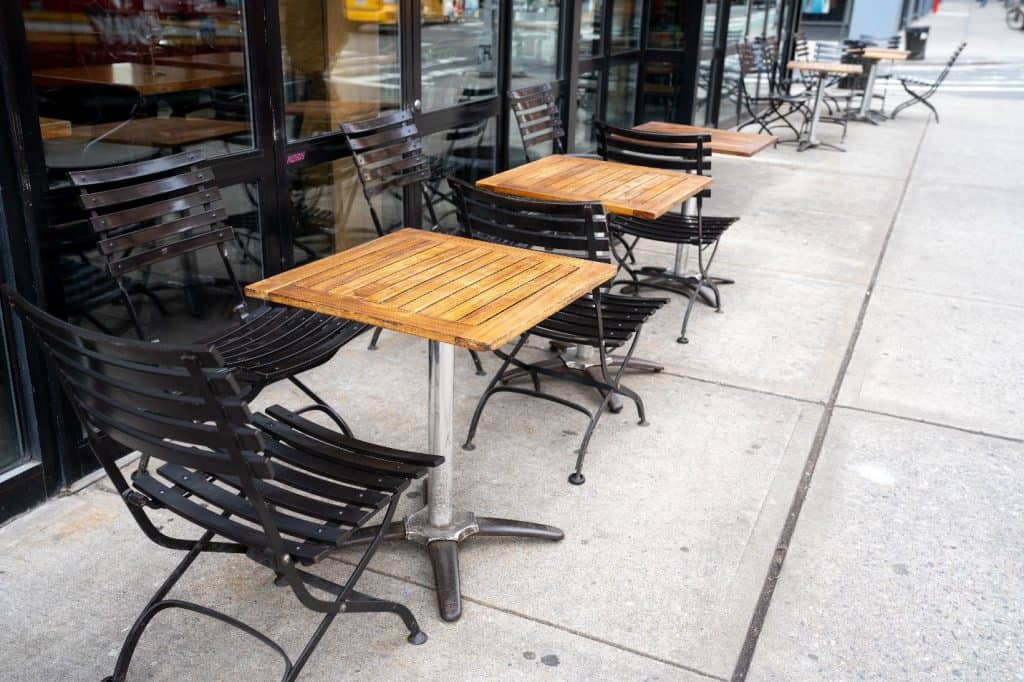 Ready to venture out of your Dupont Circle apartment for a seafood feast? Hank's Oyster Bar is the place to be. It serves lobster rolls, popcorn shrimp and calamari, Ipswich clams, fish specials, and other New-England-style classics. Hank's has been serving the Dupont Circle neighborhood since 2005. Reservations are highly recommended and strict requirements are enforced, including masks and time limits. View Hank's Oyster Bar's website.
Annie's
Annie's Paramount Steak House won the James Beard America's Classics Award in 2019. It has a spacious outdoor patio and has been serving the Dupont Circle neighborhood since 1948. A hotspot for takeout during COVID-19, Annie's has a diverse menu that includes comfort food appetizers, classic meat dishes, seafood, burgers, sandwiches, and large salads not to mention classic steaks. Visit Annie's website.
Dukes Grocery
A casual outdoor patio at Duke's original location is both scenic and comfortable. Dukes Grocery is built into a historic row house. Notable menu choices include the Proper Burger, but there are many types of sandwiches to pick from. Small plates include Pickle Pots, Chickpea and Green Chili Hummus, and Chicken Liver Pate. Visit the Dukes Grocery website.
Learn About Availability Today
Browse our apartments for rent and discover some of your favorite DC restaurants with outdoor seating. At Keener Management, we offer apartments with modern amenities in numerous convenient locations. To learn more, call 202-249-0894.