The new year is here, and the possibility of reinventing yourself has come with it. So, we've put together a list of the best new things to try in the new year and where you can experience them in the DC area!
5 Things to Try in DC in 2022
1. Yoga
Yoga is one of the most popular physical activities worldwide. It challenges your body's core and foundation while keeping your mind in a peaceful state. Therefore, yoga can help you relax and get rid of the day-to-day stress.
Flow Yoga Center is an excellent option if you live in DC. This well-reviewed yoga place provides everything you need as a beginner. This incredible place is located in the Logan Circle neighborhood, near Keener Management properties like The Gatsby and M Street Plaza.
2. Massage
If you have never experienced a professional massage, 2022 is the year to change that. Massages provide a wide range of benefits for your body, from reducing stress to improving your blood flow and overall health.
Locating a massage place is not hard, but finding a good one can be challenging. Wat Massage, for instance, is one of the most popular places in the DC area. You can find it at 1804 Vernon St NW, near the Kalorama neighborhood and our Park Crest property.
3. Healthy Eating
We know it is hard to stay healthy with a fast-paced life, but this new year gives you the perfect opportunity to try something different. Don't force yourself into a new diet. Instead, find a reliable, healthy restaurant in Washington DC where you can enjoy a delicious and nutritious meal.
Flower Child is a restaurant with an extensive menu that caters to every type of diet. You can eat vegan food, vegetarian, meat-filled options, or gluten-free, all in the same place. This popular restaurant is located at 2112 Pennsylvania Avenue and less than two miles from our The Hamilton House Apartments.
4. A Make-Over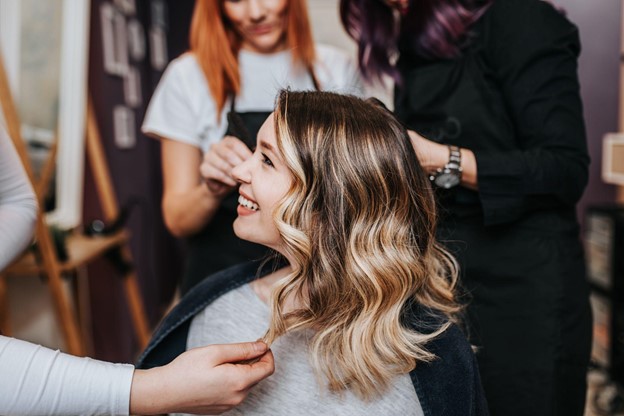 Nothing says "new year, new me" better than changing your look. Eating healthier and doing exercise will keep your body feeling and looking good. Still, you can also boost your appearance with the right hairstyle and accessories.
Last Tangle is one of the best-reviewed salons in Washington, DC. Its team of trained professionals can help you get the look you desire. The salon provides hairstyling, manicures, and all kinds of waxing. You can find this incredible place near the Dupont Circle at 1146 19th Street NW only two blocks away from the Hamilton House.
5. Volunteering
One option you might not have thought of for a New Year's resolution is giving back to your community. This doesn't mean you have to give up your career and family and move to a developing country. You can also benefit your immediate community by investing some time.
Food & Friends is a community-based organization in DC. It has the mission of providing high-quality meals for people with serious illnesses. You can join the team doing as little as 20 hours a month or give more. It all depends on you!
Make a Fresh Start in the DC Area with Keener Management
If you are looking for a fresh start in DC, Keener Management has got you covered. Our beautiful apartments are ready to welcome you and give you all the comfort and style you need to make 2022 your year.
Check out all our properties and their unique features so that you can choose the one that fits you best!