Washington, DC, with its rich history and bustling urban life, is also a beacon for health enthusiasts. Some of the best gyms in DC cater to both locals and visitors with diverse fitness needs—let's explore a few of the top options on where to break a sweat.
Nestled in the lively heart of DuPont Circle, Barry's flagship DC studio epitomizes the "work hard, play hard" attitude. Recognized for its demanding workouts and spirited environment, it's no surprise it ranks among the best gyms in Washington, DC. And for those who've chosen to call The Hamilton House or The Drake their home, this dynamic fitness haven is nearly at their doorstep.
Another standout on the list of prominent fitness centers in Washington, DC is Elevate Interval FItness. This center is dedicated to transforming enthusiasts into multi-dimensional athletes. With a range of classes from HIIT & Run to Functional HIIT, Elevate ensures that no two days at the gym are the same. It's a bonus for residents of The Harper, as this top-tier fitness spot is just around the corner.
A name synonymous with luxury in the fitness world, Equinox Anthem Row, is a three-story blend of opulence and peak physical performance. More than just one of the gyms in DC, it's a holistic experience. Whether it's unwinding in the spa or mastering a Pilates move, Equinox offers it all. M Street Towers residents have the added advantage of being in close vicinity to this upscale fitness center.
Last but not least, VIDA Fitness is a mammoth in terms of both size and offerings among fitness centers in Washington, DC. This expansive space is a haven for fitness enthusiasts, providing everything from intense Pilates classes to a rejuvenating spa session. It also holds a special place for those at The Windermere Harrowgate, thanks to its convenient location.
Keener Management's Fitness Edge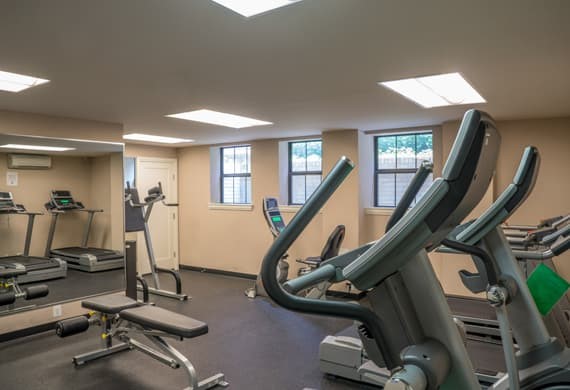 While Washington, DC boasts an impressive array of external fitness offerings, Keener Management residents enjoy a unique advantage. The presence of in-house fitness rooms, furnished with state-of-the-art equipment, ensures that a premium workout experience is always within reach.
The convenience of having such facilities right at home eliminates the commute and gives residents more time to focus on their fitness regimes. Whether you're looking for a quick morning cardio session before work or a relaxing evening yoga practice, the fitness amenities in Keener Management properties ensure that residents can seamlessly weave fitness into their daily routines.
In a city where every moment counts, the luxury of having top-tier gym facilities in the comfort of one's residential complex is truly unparalleled. By bridging the gap between home and health, Keener Management is redefining urban living in Washington, DC.
Stay active and stay rooted in the city's rhythm. Whether you're exploring the top fitness centers in Washington, DC, or leveraging Keener Management's premium in-house amenities, Washington, DC, ensures every fitness journey is both challenging and rewarding.