Situated between Rock Creek Park and Mount Saint Alban, Woodley Park is home to attractive early 20th-century row houses and The Delano, our art deco luxury apartment complex. Our apartments rentals, with their high ceilings, hardwood flooring, and stainless steel appliances, are ideal for dining in for Thanksgiving. Fortunately, there are also many options if you're looking for Thanksgiving dinner to go in Washington, D.C. Here are just a few of them.
Federalist Pig
Just a few blocks away on Columbia Rd NW, the Federalist Pig is offering 12 lb. and half turkey dinners complete with cranberry BBQ sauce, Parker House rolls, and homestyle pan gravy. Sides to choose from include mac and cheese, candied sweet potatoes, crispy Brussel sprouts, stuffing, and others. You can order a la cart sides and meats, including turkey, brisket, and spare ribs. For dessert, you can pick from a 10-inch Bourbon Pecan Pie or Apple Crumb Pie made fresh by Ted's Bulletin. Learn more about Thanksgiving takeout at the Federalist Pig.
Tail Up Goat
At the Tail Up Goat, you can request a Whole Turkey, Roasted Turkey Breast, or Smoke Turkey Leg along with a whole range of options. Instead of inclusive packages, you can pick as you please from a selection of mashed potatoes, gravy, stuffing, salad, dinner rolls, cornbread, green bean casserole, caramelized sweet potato, and pies. A choice of eloquently named wine packages is available, as well, including "Traditional Georgian Thanksgiving," "Tiny Bubbles in Holiday Wine," and "Glou Glou = Gobble Gobble." See Tail Up Goat's Thanksgiving menu.
Baker's Daughter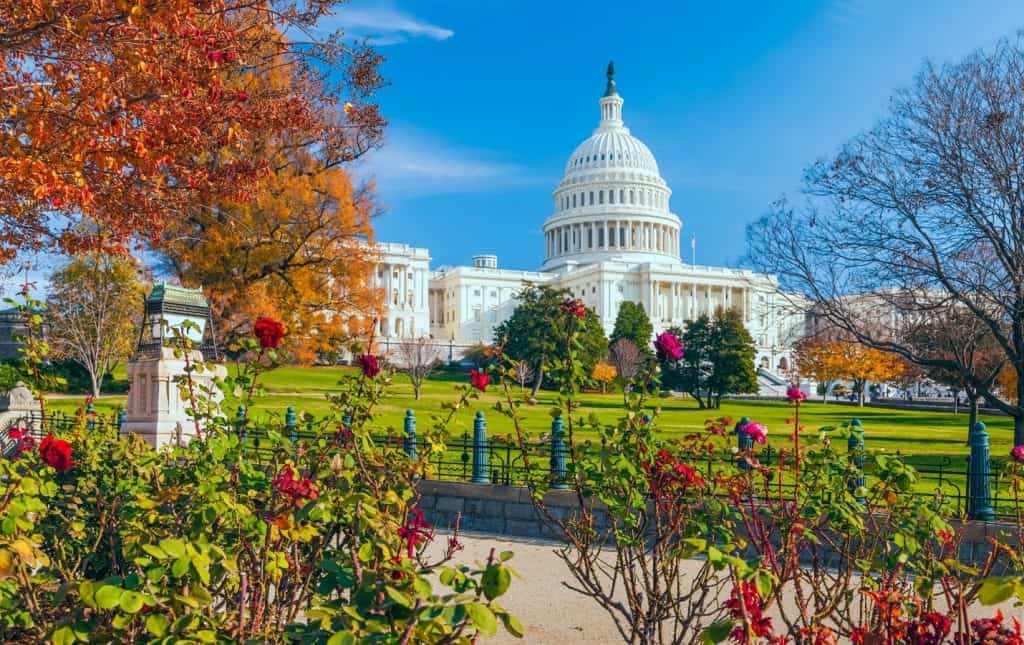 A boutique café and market a little way across town, Baker's Daughter is selling home-cooked prepared dinner packages for up to four to six people, as well as separate appetizers, entrees, sauces, sides, and desserts. You can order holiday packages up until Monday, 11/23, and pick up your order right until Thanksgiving Day. Thanksgiving breakfast items and leftover sandwich options for the day after are available too! Learn more about Baker's Daughter.
Equinox
Located off 1st St NW, Equinox is an upscale restaurant established in 1999. Its three-course Thanksgiving menu is up on the website. Turkey is not the focus, but it is present. The menu does offer an impressively diverse selection of vegetable dishes, including pumpkin shakshuka, tofu and cauliflower curry, and grilled eggplant with cashew ricotta. Seafood dishes such as pan-seared scallops and falafel-crusted swordfish are there as well. If you're ordering in on Thanksgiving in D.C., see the Equinox Restaurant menu.
View Keener Management Properties Today
We have apartment rentals in Washington DC, as well as other high-demand neighborhoods in Washington, D.C. Browse our apartment properties located in the Dupont Circle, Logan Circle, 14th Street, Kalorama, Woodley Park, and Columbia Heights communities, with 16 locations in total. Our team has been exercising quality, service, and integrity since our founding in 1984. To learn more or inquire about available properties, call us at 202-249-0894 today!