Summer in DC is the time to enjoy a rustic meal, a gourmet masterpiece, or a cold drink on the many famous outdoor patio destinations. If you have your own outdoor patio in DC, a relaxing retreat is just steps away, but there are some exceptional destinations nearby for your summer dining and socializing. Some of the best outdoor seating restaurants in DC are a leisurely stroll from your residence.
Finding the Best Outdoor Bars in DC
There are many outdoor bars in DC that offer unique surroundings and exciting themes. Some of these bars in DC with outdoor seating take reservations, so be sure to call ahead if you want a prime seat or table with a view to cheer for.
Barcelona Wine Bar on 14th
This landmark location features a stone courtyard, dark wood, and industrial-style metal lighting. Enjoy a glass of fine wine in a chic, open air, urban setting close to The Regent and The Gatsby at 1622 14th St NW, Washington, DC.
Ivy & Coney
For a laid-back, no-frills outdoor bar that remains a hidden local gem, stop by the Ivy & Coney for chili dogs and drinks with friends. A short walk from Sutton Plaza and the M Street Towers, this local favorite DC patio stands the test of time at 1537 7th St. NW, Washington, DC.
Dirty Habit
The outdoor bar at the Dirty Habit sets modern, sleek furniture against the white brick walls, creating an eclectic destination for after work drinks and tasty bites like churros and donut holes. Stop by on your way home or slip off from The Drake or The Hamilton House and make this habit your own at 555 8th St NW, Washington, DC.
Visit DC Restaurants with Outdoor Seating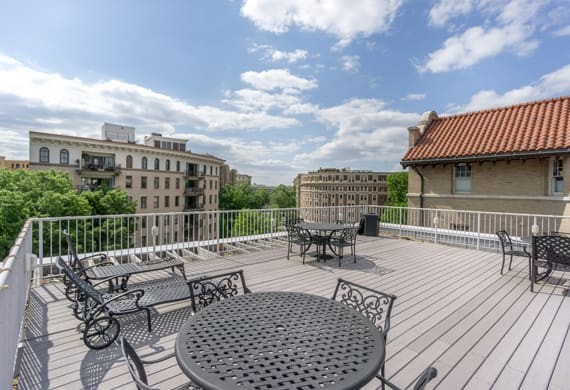 Enjoy outdoor seating at any of these fine DC dining destinations that offer stunning views, intimate nooks, and sizzling gourmet dining experiences just a few blocks away. Make a reservation for dinner or a patio brunch at a DC dining landmark.
Calico
Calico has wooden deck terraces and a turf lawn with picnic tables and a backyard vibe. Famous homey favorites include the Loaded Tots, Tomato Pie, and Buffalo Cauliflower Dip. If you live at Sutton Plaza or the M Street Towers, Calico is practically in your own backyard at 50 Blagden Alley NW, Washington, DC.
El Techo
With a unique adult treehouse setting full of hanging plants, El Techo features outdoor heaters and a retractable roof that allows diners to enjoy margaritas, tacos, and more with an island feel in all kinds of weather. An easy walk from The Windermere Harrowgate and The Santa Rosa takes you to your treehouse at 606 Florida Ave. NW, Washington, DC.
Iron Gate Restaurant
Surrounded by wisteria that dates back to the 1800s, the patio at the Iron Gate is a secret garden of Greek-Italian delights. Osso bucco, focaccia, and gnocchi highlight the menu. Take a jaunt from The Drake or The Preston for lunch or dinner and treat yourself to one of the best patio dining experiences available at 1734 N St NW, Washington, DC.
Secure a Seat at One of the Best DC Patios
Enjoying these local hideaways and rooftop hotspots will keep you and your friends where the action is this summer in DC. When you are ready for a private moment or a party on your own patio, check out Keener Management properties in the heart of DC.
You can enjoy rooftop terrace and deck amenities with your neighbors at many of our available luxury apartment homes, including 2000 Connecticut Ave, The Asher, and The Park Crest. Many of our apartments have a private patio or deck for enjoying a quiet open air dinner without leaving home.
Easy access to the best local destinations and luxury home amenities offers the ideal combination of active lifestyle and at home chill. Contact us today to arrange a tour of your next residence in DC.