You'll find The Harper on bustling 14th Street where your favorite bars and restaurants are just steps away. It has modernly designed studio, junior one-bedroom and one-bedroom luxury apartments in D.C.
Trader Joe's across the street and the 14th & U Farmers Market is around the corner from The Harper. Its location, design and amenities, along with Keener Management, make tenants enjoy their time living in The Harper.
But why not hear from an actual resident? The Harper is the second Keener Management property freelance writer and editor Kate Potterfield has lived in, but she's leaving soon and sad to go.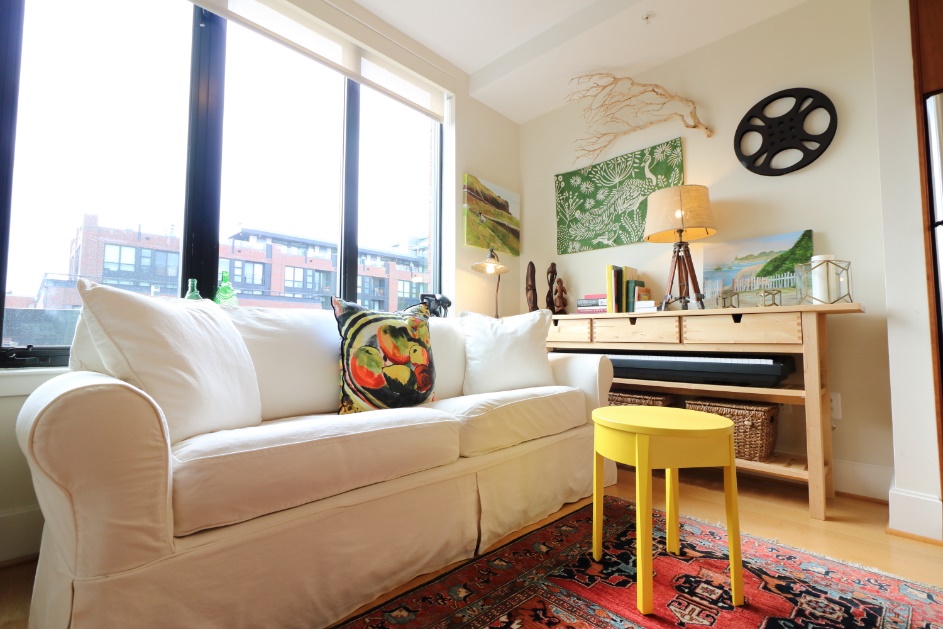 Potterfield specializes in decorating and organizing small spaces, and in addition to talking about her experience living in The Harper, she shares some decorating tips in the interview below.
Thank you for spending the last 2 and a half years as a resident at The Harper. It has been a pleasure having you as a resident and we really appreciate you sharing your decorating skills with us!
With so many choices for apartments in D.C., why did you choose The Harper?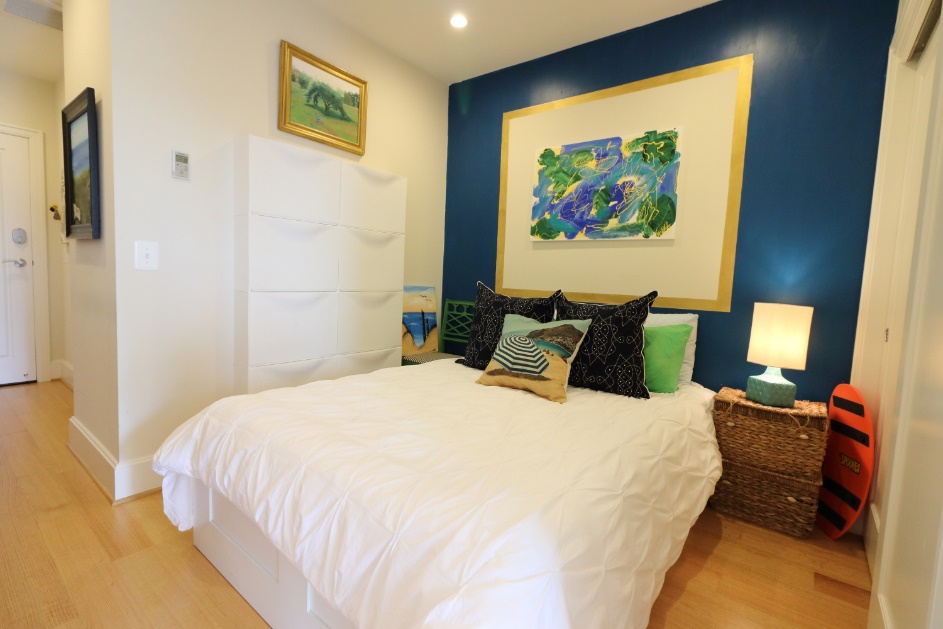 The short answer: Keener Management and 14th Street. The longer answer: I had lived in another Keener building a few years prior (2000 Connecticut!) and absolutely loved it. After a frustrating experience with another management company, I knew I wanted to return to a Keener property because of the level of professionalism, the genuine caring of management and staff, and the high quality of the apartments themselves. After seeing how beautifully and thoughtfully designed the Harper was – AND loving its vibrant and convenient location on 14th Street – I knew I wanted to live here.
You have done a truly great job of maximizing your apartment. What advice would you give to people trying to furnish and decorate a small space?
The first piece of advice I give is to pare down your belongings. What excess items are weighing you down, either from the clutter they create or lack of use? Then, organize! When things have a place to live, they create less visual "noise" and therefore make your space feel more functional and pleasing. Finally, choose furniture and décor that have a small footprint, serve multiple functions, and bring you joy. In small spaces you have to be more strategic with decorating, but the mindfulness this brings to how you live in your space is well worth the effort!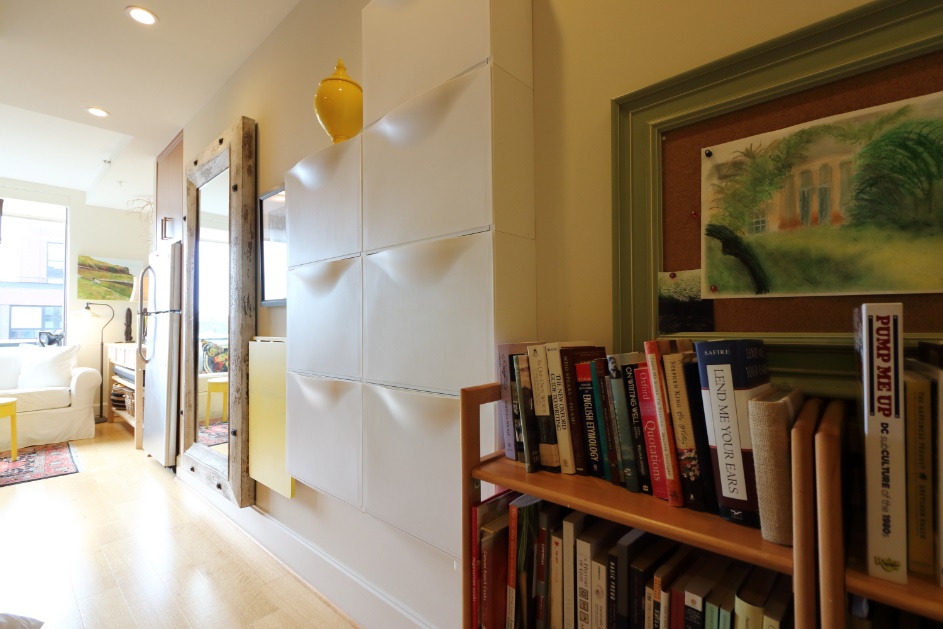 For people that are looking for a little more guidance on personalizing their space, what is the best way for clients to get in touch with you?
I invite them to check out my website, www.thecreativehome.net, and then email me at kate.potterfield@gmail.com to set up an initial phone call, which is complimentary. We can discuss décor dilemmas, goals, and both short- and long-term plans. Then, if desired, we can set up in-person consultations and services. I can tailor my work to fit your budget, too – many of my clients are maximizing both space and dollars!
Are there any particular furniture pieces or choices that have made a big impact on the function of your living space?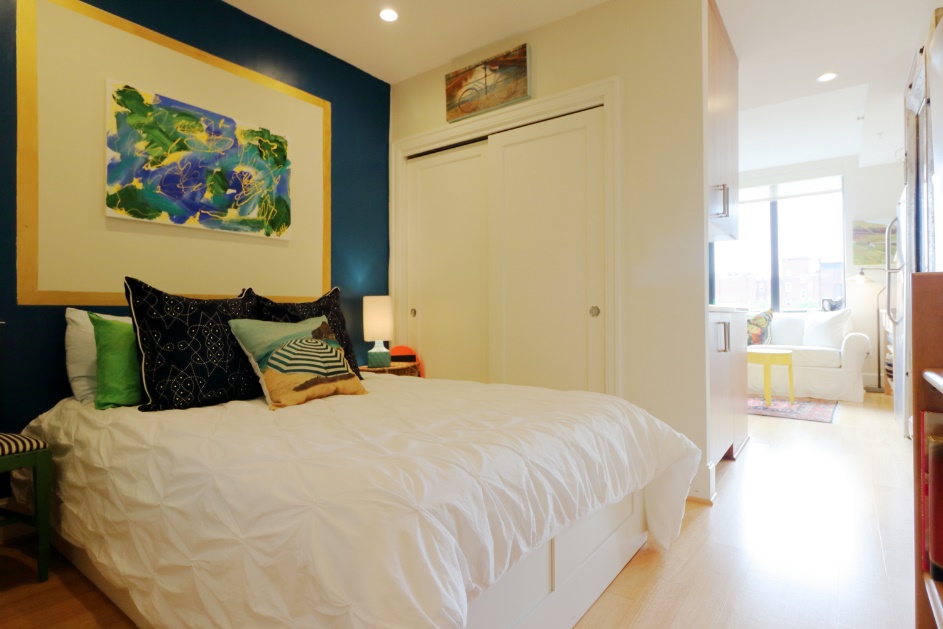 So many! One of my favorites are IKEA "Trones." They are slim storage cabinets you install on your walls. They're meant for shoes, but I repurpose them for everything from t-shirts to jeans to craft supplies. They provide a ton of extra storage with a very small footprint. Plus, they add an almost sculptural element to your walls – some great visual interest.
Another item that is a game-changer is a wall-mounted folding tabletop. I have two! I fold them up when I need them, and fold them away, flat against the wall, when they're not in use. One is a 'standing desk' and the other provides a small surface for food preparation and dining. These can also add visual interest if you paint them a bright color.
We are happy and excited for your next move, but we are sad to see you go. Is there anything you will miss about living at The Harper or on 14th Street?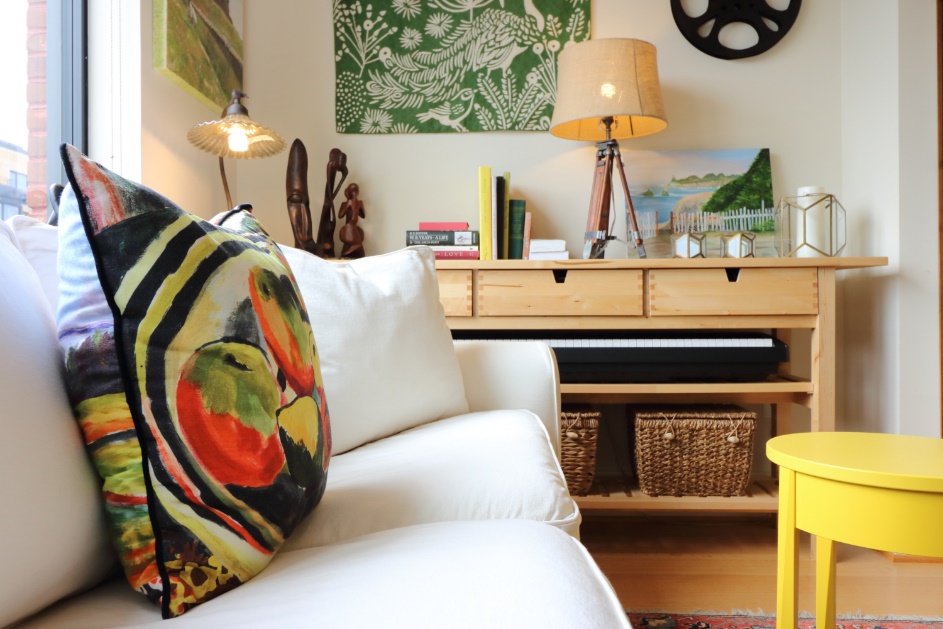 I appreciate that! While I'm excited for my next home, I will miss The Harper so much. I'll most miss the incredibly kind, caring, and lovely people who work in the building. I've also met some of the friendliest neighbors here in all my many years in D.C.! Finally, I'll just miss my beautiful apartment. The high-end finishes, smart spatial design, and beautiful view from my window made The Harper a very easy and happy place to call home!
Potterfield is just one of many satisfied tenants of The Harper. The Harper apartments are the perfect blend of luxury design and amenities, smartly located on D.C.'s lively 14th Street, and belong to a trusted management company.
Call (202) 842-1919 or email harper@keenermanagement.com for more information about The Harper luxury apartments in Washington, D.C.