Christmas is almost here, and DC is celebrating in a big way! If you love lights, then you'll definitely want to try to get to as many of these great light showings as possible. Here are some of the best places to go and get your glow on this holiday season.
Where to Go on Your Own
DC is a great place to experience Christmas solo. Depending on where you go, it's also ideal for getting your shopping done, too.
A great example is Union Station; their beautiful Norwegian Christmas tree is all lit up for the holidays right now. You'll definitely want to check out their impressive holiday train display, complete with tracks winding through a sleepy winter town. Next stop, the station's boutiques, where you're sure to find that special gift before catching a ride back to your luxury apartment in DC.
The night time is the right time in Penn Quarter, where the Downtown Holiday Market is in full swing. When the sun sets, the lights come on, and all the crafters and vendors provide plenty of opportunities to take a slow stroll with a hot chocolate in one hand and your gift list in the other.
The market runs daily until December 23rd from 12 to 8 p.m.
Best Places to Bring Someone You Love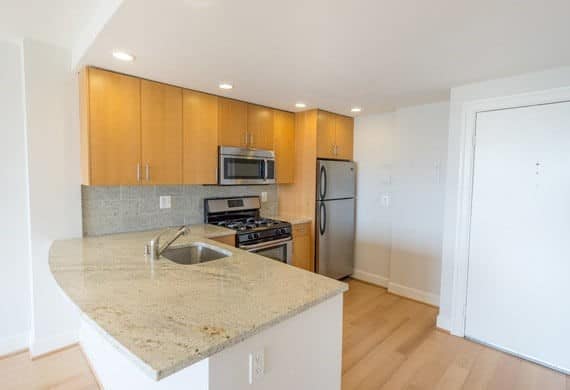 Whether you're taking a break from shopping or spending quality time with your family, significant other, or friend as you admire the lights, you'll love these ideas close to apartments in Washington DC.
If you're new to the area or family is visiting from abroad for the holidays, then one place you must go is to the U.S. Capitol, where the Capitol Christmas tree will shine right through the month of December. Decorated with ornaments made by citizens from all over the country, this tree represents people from all walks of life.
Called a "free light art experience," Georgetown Glow is a light event you won't want to miss. Artists from every location converge to display amazing works of light on every outdoor corner of the neighborhood.
After you've seen the lights, head over to Washington Harbor for a gorgeous ice skating experience. Glow lights up the night from December 6th to January 5th, 5-10 p.m.
Light animations, LED-covered trees, live music, and more can only mean one thing: the National Zoo's ZooLights event. The entire zoo is covered with over 500,000 lights, and you can even visit with some of the animals. ZooLights runs until January 1st, but it is closed on December 24th, 25th, and 31st.
Moving to DC Soon?
Great news: It just got easier to find luxury apartments for rent! Keener Management's 16 properties in DC all offer the best in amenities, and you also get easy access to entertainment, shopping, and much more. There's never been a better time to move to DC. You can browse Keener Management properties online and, if you're super busy, it's all good; just ask our concierge to find and schedule apartment viewings.