While Washington DC is an amazing and lively city, the experience can be different for all residents depending on where you're based and what you're looking to get out of life. With many young professionals flocking to DC to begin their careers in the capital of the United States, it's critical to do neighborhood research and check out the place that's best for you.
Here at Keener Management, we're experts on the city and can recommend the best neighborhoods in DC for young professionals.
1. Logan Circle
In the northwest of the city you'll find Logan Circle. It's home to many incredible DC landmarks that could be right outside your door.
It was originally called Iowa Circle but was renamed Logan Circle in 1930 in honor of John A. Logan. In the 21st century, lots of effort has been put into modernizing the neighborhood, with many incredible art galleries, theaters, restaurants, and nightlife nestled in the heart of the neighborhood.
Perhaps the best thing about Logan Circle is its walkability. Regardless of where you live in the neighborhood, you don't have to walk far to find amazing food or fun events. More importantly for young professionals, it's a half-mile walk to any metro line in DC, meaning your commute to your job won't be too long. If you work from home, even better—you can step outside on your break and grab a coffee from one of Logan Circle's lunch spots or breathe in some fresh air near a historic landmark named in the District of Columbia Inventory of Historic Sites.
Keener Management has apartments right in the neighborhood, including The Gatsby, Sutton Plaza, and M Street Towers, each of them with ample space and convenient amenities.
2. Dupont Circle
Located a little west of Logan Circle is Dupont Circle, another of the best places to live in DC for young professionals. It's home to numerous embassies and some breath-taking architecture, meaning those coming from other countries often feel very much at home here.
It's also home to some amazing food. Iron Gate Restaurant boasts some of the best Greek and Italian plates in the city, and Doyle is a popular spot for brunch. You'll never have to wander more than half a mile from your front door to sit down and enjoy some cocktails and unforgettable meals.
The park in Dupont Circle also has quite a history, having been home to many political rallies. It's also a great place to relax, with a beautiful central fountain and many people often playing chess. Tom Murphy is a resident of this park, a famous homeless champion chess player.
For those who work from home and spend a lot of time in their neighborhood, Dupont Circle is an incredible choice—and, much like Logan Circle, has convenient access to metro lines for those who don't.
Keener Management has many properties in the area, including The Drake, The Hamilton House, and The Regent. If you have your heart set on this neighborhood, we're sure to be able to find an apartment that suits you.
3. Columbia Heights
One of the most diverse places in the city and another of the best neighborhoods in DC for young professionals is Columbia Heights, drawing in young professionals from all walks of life. No racial group makes up a majority here, so for those trying to make it—or those in the process—everyone can feel at home here and find their community.
The Columbia Heights Farmers Market is a great place to grab fresh produce and unusual foods, drawing in people from all over DC. Those who live here are lucky to have it on their doorstep! It also boasts an array of cultural attractions, including the historic Tivoli Theatre. Although it no longer operates as it once did, you can still see live shows here, and there's retail and restaurants elsewhere in the building.
It also has a very modern community center, so you can find a fitness center, a game room, classes, and more and make friends within your community.
If you want to make Columbia Heights your home, why not check out The Park Monroe by Keener Management? It's a safe and secure building right in the heart of everything Columbia Heights has to offer.
Why Keener Management?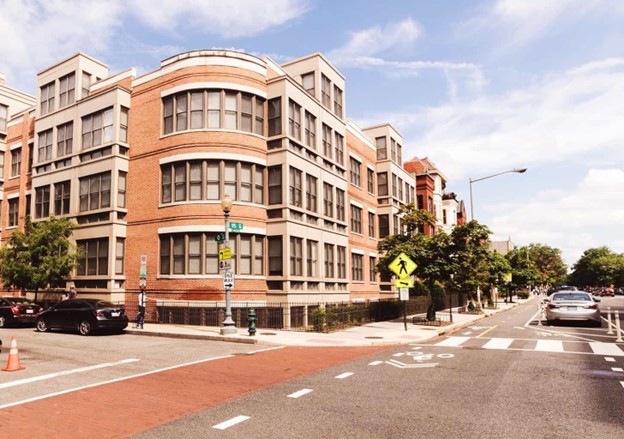 Moving to a new city can be daunting as a young professional making moves in their career. Not only is it important to choose the right neighborhood, but it's important to choose the right apartment building.
Keener Management has properties all over Washington DC, and we are committed to helping you find your home here. Located with convenient access to metro lines to make your commute short and in the heart of amazing cultural attractions, retail, and restaurants to make your personal life a joy, you can't go wrong with our luxury apartments.
If you want to move to one of the best neighborhoods in DC, whether as a resident of the city already or as a brand new professional in the area, contact us today and let's find your new home.